Исполнителей:
2651
| Альбомов:
85741
| Видео:
1021
---
Главная
»
Renee Rosnes - Kinds of Love (2021)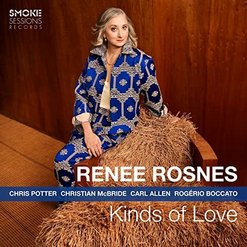 Исполнитель: Renee RosnesНазвание альбома:

Kinds of Love

Год выпуска:

2021

Формат файлов:

FLAC

Размер архива:

367,5 MB

Скачать с:

turbobit/gigapeta/rapidgator/katfile

1. Silk (5:24)
2. Kinds of Love (5:48)
3. In Time Like Air (6:09)
4. The Golden Triangle (6:36)
5. Evermore (7:29)
6. Passing Jupiter (7:18)
7. Life Does Not Wait (A Vida Não Espera) (5:21)
8. Swoop (6:35)
9. Blessings in a Year of Exile (5:31)

On "Kinds of Love," pianist and composer Renee Rosnes (Joe Henderson, Wayne Shorter, Ron Carter, Artemis) honors and celebrates love through nine brilliant new compositions performed with a stunning all-star band featuring some of her favorite collaborators, Chris Potter, Christian McBride, Carl Allen, and Rogerio Boccato.The staggering all-star quintet that Rosnes assembled for "Kinds of Love" represents a deep web of friendships and collaborations stretching back decades. Rosnes seized the opportunity to craft a full album's worth of new compositions, conceived with these extraordinary artists, and their singular combinations, in mind. The respect and love that these five musicians feel for one another and for the act of making music together is abundantly, joyously clear throughout.Rosnes seized the opportunity to craft a full album's worth of new compositions, conceived for these particular artistic voices. She emerged from the year of relative isolation, experienced by so many, with a reinvigorated appreciation for the many different shapes that love can take. This breathtaking new recording is both a celebration of and a meditation on the myriad forms it's taken in her own life - romantic love, love of family, of nature, of the arts and of close relationships she's forged with many of her fellow musicians."I've tried to look at the pandemic as a gift of time, and the knowledge that I would soon be recording with my friends inspired much of the music," Rosnes says. "It was thrilling to experience the humanity of making music again in the moment. Each of these musicians are profound, humble virtuosos and, on a human level, enlightened spirits."

Renee Rosnes - piano, Fender Rhodes, vocals
Chris Potter - tenor sax, soprano sax, flute, alto flute, bass clarinet
Christian McBride - bass
Carl Allen - drums
Rogério Boccato - percussion, vocals

Smoke Sessions Records SSR 2104

Recorded March 31 & April 1, 2021, at Sear Sound, Studio C in New York City

turbobit скачать
gigapeta скачать
rapidgator скачать
katfile скачать


Профиль
(13.09.21 - 01:16) - 007:

pula2012, пожалуйста!