Исполнителей:
2650
| Альбомов:
70925
| Видео:
977
---
Главная
»
Camille Thurman - Inside The Moment: Recorded Live At Rockwood Music Hall (2017)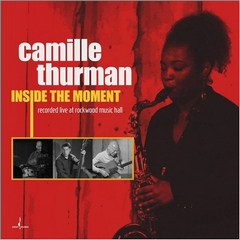 Исполнитель:

Camille Thurman

Название альбома:

Inside The Moment: Recorded Live At Rockwood Music Hall

Год выпуска:

2017 Chesky Records

Формат файлов:

MP3@320K/s

Размер архива:

115,5 MB

Скачать с:

depositfiles

The world of Jazz has been graced by many great female vocalists through the decades -- Ella Fitzgerald, Sara Vaughan, Nina Simone, Billie Holiday, to name just a few. Chesky Records is excited to introduce a name we feel will one day be in their company...Camille Thurman. On her Chesky Records debut, Thurman shows her versatility with stunning performances on both saxophone and vocals.

The multi-talented Camille Thurman is an award-winning composer, a formidable saxophonist, and a second-place winner of the prestigious Sarah Vaughan Vocal Competition. She has performed with artists ranging from Dr. Billy Taylor, George Coleman, Lew Tabackin, and George Benson, to Chaka Khan, Alicia Keys, and Missy Elliot. She recently made her Jazz at Lincoln Center debut during the Generations in Jazz Festival, leading a killer quartet as she sang, played, and showcased original compositions and some classics. She also recently gave an improvised scatting performance during Battle of the Big Bands that brought down the house in The Appel Room.

The inaugural release of the new Virtual Audio Series from Chesky Records, this album was recorded in front of a live audience at Rockwood Music Hall in the SoHo neighborhood of Manhattan, using a single binaural microphone. This technique places the listener in the middle of a live show. If you didn't know any better, you'd swear you can smell the perfume of the young lady seated to your left.

MQA is an award winning technology that delivers the sound of the studio. The Master MQA file is fully authenticated and is small enough to stream, but also being backward compatible, so you can play MQA music on any device.

Imagine being present at the original studio performance of your favorite recording artist. Every nuance, every subtlety, every tiny drop of emotion delivered to your ears.

01. The Night Has A Thousand Eyes (7:22)
02. Sassy's Blues (7:40)
03. Road Song (6:12)
04. Detour Ahead (7:43)
05. Nefertiti (7:43)
06. Flower Is A Lovesome Thing (7:41)
07. Cherokee (4:50)

скачать


Профиль
(27.08.18 - 00:59) - JazzLover54:

Total Time: 00:49:14 min

Personnel:
Camille Thurman - tenor saxophone, vocals;
Mark Whitfield - guitar;
Ben Allison - bass;
Billy Drummond - drums.

Recorded at Rockwood Music Hall, New York, February 19, 2017.