Исполнителей:
2650
| Альбомов:
71603
| Видео:
977
---
Главная
»
Музыка
Swingville All-Stars - At The Jazz Band Ball (1961-62)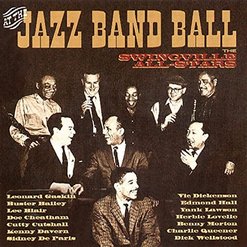 Исполнитель:

Swingville All-Stars

Название альбома:

At The Jazz Band Ball

Год выпуска:

1997

Формат файлов:

MP3@320K/s

Размер архива:

116,6 MB

Скачать с:

turbobit/gigapeta/rapidgator/katfile

01. Mack The Knife
02. Hindustan
03. Keepin' Out Of Mischief Now
04. At The Jazz Band Ball
05. Tin Roof Blues
06. Muskrat Ramble
07. Pistol Packin' Mama
08. Yellow Rose Of Texas
09. It Is No Secret (What God Can Do)
10. Just Because

#1-6:
Leonard Gaskin - Bass, Leader
Edmond Hall, Buster Bailey - Clarinet
Yank Lawson, Doc Cheatham - Trumpet
Vic Dickenson, Cutty Cutshall - Trombone
Dick Wellstood - Piano
Herbie Lovelle - Drums

#7-10:
Leonard Gaskin - Bass, Leader
Kenny Davern - Clarinet
Sidney DeParis - Trumpet
Benny Morton - Trombone
Lee Blair - Banjo
Charlie Queener - Piano
Herbie Lovelle - Drums

Ozzie Cadena Supervisor, Liner Notes
Rudy Van Gelder Engineer

#1-6 recorded at Van Gelder Studios, Englewood Cliffs, NJ, November 30, 1961

#7-10 recorded in NYC, August 28, 1962

"The Swingville All-Stars" was a name used on three albums featuring notable groups of jazz veterans jamming Dixieland-oriented tunes. All of the music was reissued in 1997 on two CDs (the other is Memphis Blues). Pianist Dick Wellstood, bassist Leonard Gaskin (the leader) and drummer Herbie Lovelle are joined by one of two frontlines on two songs apiece: trumpeter Doc Cheatham, trombonist Vic Dickenson, and clarinetist Buster Bailey, or trumpeter Yank Lawson, trombonist Cutty Cutshall, and clarinetist Edmond Hall. While "Keepin' Out of Mischief Now" is a showcase for the trio, "At the Jazz Band Ball" has all nine musicians playing some nearly riotous music. Everyone fares well on the Dixieland standards. The final four selections on this CD are half of an unusual set that features trumpeter Sidney DeParis, trombonist Benny Morton, and clarinetist Kenny Davern playing Dixieland interpretations of songs from country music, including "Pistol Packin' Mama" and "Yellow Rose of Texas." Fortunately, the chord changes of those tunes are easily transferable to jazz, and the results are quite swinging. Highly recommended for trad jazz collectors.

turbobit скачать
gigapeta скачать
rapidgator скачать
katfile скачать


Профиль
(14.07.20 - 18:36) - 007:

jimmy, пожалуйста!

Профиль
(17.07.20 - 07:55) - 007:

russel, пожалуйста!