Исполнителей:
2651
| Альбомов:
80775
| Видео:
1009
---
Главная
»
Музыка
Roseanna Vitro - Sing a Song of Bird (2021)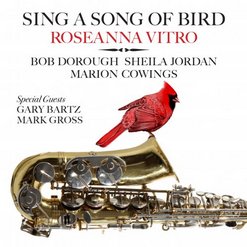 Исполнитель:

Roseanna Vitro

Название альбома:

Sing a Song of Bird

Год выпуска:

2021

Формат файлов:

MP3@320K/s

Размер архива:

144,7 MB

Скачать с:

turbobit/gigapeta/rapidgator/katfile

01. People Chase (Steeplechase) (4:55)
02. The Scatter (Red Cross) (5:14)
03. Bird's Song (Relaxin' At Camarillo) (3:21)
04. Parker's Mood (4:42)
05. Grapple With The Apple (Scrapple From The Apple) (5:23)
06. Audubon's New Bluebird (Bluebird) (4:49)
07. Sheila, Jazz Child (Cheryl) (4:43)
08. Quasimodo (6:43)
09. Now's The Time (4:31)
10. Yardbird Suite (6:17)
11. Ko Ko / Cherokee (4:28)
12. These Foolish Things (5:27)

Sing a Song of Bird is but another daring flight from Roseanna Vitro, a study of Charlie Parker, one of the greatest figures in jazz and popular music. This, her fifteenth record over a forty-year career, is the fulfillment of two goals. The first is to honor the musician's creed of standing tall on the shoulders of giants (and personal heroes). Bob Dorough, Sheila Jordan, and Marion Cowings are just that, each bringing a lifetime of inspiration to Roseanna through their tireless virtuosity. Second, Roseanna's emotional commitment to song narratives and meaningful lyrics. As Roseanna's devotees know well, she ALWAYS tells her tale. On Sing a Song of Bird, she flies high with Charlie Parker's classic melodies.

For 50 years, Roseanna Vitro has made vocal jazz her life's work. She came to jazz from the roots of gospel and the blues, dug deeply into the standards, then embraced a wide variety of influences from Bill Evans to Ray Charles, from cultures and territories covering Brazil to India. During this pursuit, she took her calling to heart as a Jazz Ambassador for the US State Department. She taught vocal jazz at the university level for two decades, authored a series of jazz columns for JazzTimes magazine, released fourteen album projects, and toured on every continent except Antarctica

Roseanna met Dorough in 1998 when they were both inducted into the Arkansas Jazz Hall of Fame. They developed a kinship from their common roots. Though Bob is best known for his Schoolhouse Rock project, Roseanna first dug him on "Nothing Like You," a song he originally recorded with Miles Davis in 1966. In 2017, while making her record Tell Me the Truth, Roseanna learned that Bob's health was failing. She quickly organized a session to document his lyrics to Parker's "Bluebird" and "Red Cross." At the same time, Roseanna had grown close to Sheila through their JazzTimes collaboration. She invited her to record with a band of associates: Mark Gross (alto sax), Jason Teborek (piano), Dean Johnson (bass), and Bill Goodwin (drums). Unfortunately, Bob passed within months of the recording, Roseanna then lost her mother, had to move to a new town after 35 years, and lastly, Covid-19 became the highest hurdle.

Slowly emerging from the upheaval, she called a second session with an updated band, adding Marion Cowings and Gary Bartz to the mix. Roseanna met Marion when she first arrived in New York, over 40 years ago. She was immediately impressed with his command of bebop. (Marion, a member of their mutual admiration society, introduced her to Jon Hendricks.) Roseanna met Gary on her 1996 Passion Dance recording for Telarc. Gary's love of Bird was obvious. To complete the picture, Alan Broadbent, Roseanna's new neighbor, and two-time Grammy winner, agreed to join the session, teaming with bassist Johnson and drummer Alvester Garnett. Thus, the seeds of this recording were sown.

Because lyrics and storytelling play a central role in Roseanna's music, she asked Bob and Sheila to graft their words to Bird's songs. Marion applied King Pleasure's lyrics to "Parker's Mood" and Hendricks's lyrics to "Now's the Time." I wrote for the Parker classics "Scrapple From the Apple" and "Steeplechase," while forging a second verse to "Sheila, Jazz Child," an addition to Gary Brock's original lyrics.

Rounding out all is Gary's read on "Ko-Ko / Cherokee," and the three-way interchange among Roseanna, Bob and Sheila on "These Foolish Things." When the dust cleared, certain verities remained: Charlie Parker was born on August 29, 1920, trumpeted by Roseanna's newly minted Sing a Song of Bird, which honors his centennial, his enduring impact on popular culture, and all those who continue to believe "Bird lives."

— Paul Wickliffe, producer

Roseanna Vitro, vocals (Session 1 + 2)
Bob Dorough, vocals
Sheila Jordan, vocals
Marion Cowings, vocals (Session 2)
Jason Teborek, piano
Dean Johnson, bass (Session 1 + 2)
Mark Gross, alto saxophone
Gary Bartz, alto saxophone (Session 2)
Alan Broadbent, piano (Session 2)
Alvester Garnett, drums (Session 2)

Skyline Records

turbobit скачать
gigapeta скачать
rapidgator скачать
katfile скачать


Профиль
(27.09.21 - 15:47) - 007:

jimmy, пожалуйста!