Исполнителей:
2650
| Альбомов:
73121
| Видео:
977
---
Главная
»
Музыка
Ralph Peterson and The Messenger Legacy - Onward & Upward (2020)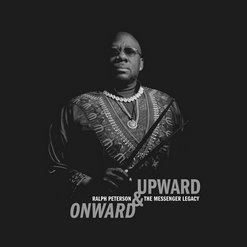 Исполнитель:

Ralph Peterson & The Messenger Legacy

Название альбома:

Onward and Upward

Год выпуска:

2020

Формат файлов:

MP3@320K/s

Размер архива:

145,9 MB

Скачать с:

turbobit/gigapeta/rapidgator/katfile

01. Forth and Back
02. Sonora
03. Onward and Upward
04. Waltz for Etienne and Ebony
05. Red Black and Green Blues
06. Un Poco Haina
07. Sudan Blue
08. Portrait of Lord Willis
09. Tricks of the Trade
10. El Grito
11. Along Came Benny

Master drummer Ralph Peterson continues to advance the continuum of his late mentor Art Blakey on Onward & Upward, his ambitious and expansive 25th release as a leader. On this historical release, due out September 18th, Peterson brings together 14 former Jazz Messengers and three Legacy Messengers to write a new page in the Jazz Messenger songbook.

Last year, Ralph Peterson and the Messenger Legacy released their first recording Legacy: Alive Volume 6 at the Side Door. With Bill Pierce, Brian Lynch, Bobby Watson, Geoffrey Keezer, Essiet Essiet and with Peterson in the drum chair, Legacy went on to receive worldwide acclaim and was regarded as one of the top releases of the year. Onward & Upward continues this trajectory. Says Peterson: "'Onward and Upward' is a phrase I got from my Rutgers Trumpet Professor and mentor Bill Fielder. This project, for me, is the natural and necessary next step in keeping alive one of the most important musical and bandleader producing legacies in American music history. It felt like a conclave for a group of artists that is finite and distinctive. The spirit of Buhaina was present and felt by everyone."

While Onward & Upward is rooted in the Blakey tradition, it is decidedly forward-thinking as it features all new material written by the band members. As writer Michael J. West says in his liner notes, Blakey's tutelage was about martialing creative resources and asserting individuality.

He kept his signature tunes in the set, but he also required his musicians to compose and arrange—to replenishing the repertoire. That demand for fresh ideas and personal development while also honoring the jazz tradition? That's the real Messenger Legacy. "He wouldn't have had us stick to playing 'One by One' and 'Blues March' and 'Children of the Night!'" says Peterson. "It's great to play and honor those tunes. But to write a new page in the Jazz Messengers songbook, that's what Art expected of us."

This new chapter in the Messenger songbook bears all the hallmarks of the Messengers including the variety of colors, the polyrhythms, the harmonies, the vast reservoirs of blues and soul, and the importance of continuity and telling a story. "There was no piece of music that didn't fit what the record was saying," Peterson says. "As each new piece came in, it was apparent that cats were looking at what had already been presented, and looking to fill stylistic, idiomatic or compositional gaps in the arc of the record."

The choice to include seventeen musicians on this project was deliberate. While most of the tracks are performed by a sextet (with the exception of one quintet and one septet), the total number of seventeen harkens back to Blakey's first foray into leading a working band: a circa-1947 large ensemble called the Seventeen Messengers. Even as Peterson and the band extend the tradition, they also bring it full circle. That, too, is the Messenger Legacy. "I feel so fortunate to have been able to gather these amazing musicians for this project. Our relationships span close to four decades. I am eternally grateful for the high level of musicianship and professionalism demonstrated by these artists," says Peterson.

Fully aware that modern history was being made, Peterson had the foresight to ensure that the entire two day recording session (which took place right before the COVID-19 lockdown in early March) was recorded and filmed. Leading up to the September street date, Onyx Productions will be releasing exclusive, on-site interviews with the participants as well as two full-length videos.

Ralph Peterson - Drums
Joanne Brackeen - Piano
Kevin Eubanks - Guitar
Robin Eubanks - Trombone
Essiet Essiet - Bass
Steve Davis - Trombone
Craig Handy - Tenor Sax
Philip Harper - Trumpet
Brian Lynch - Trumpet
Lonnie Plaxico - Bass
Bill Pierce - Saxophone
Melisaa Slocum - Bass
Jean Touissant - Saxophone
Peter Washington - Bass
Zaccai Curtis - Piano
Anthony Wonsey - Piano
Reinaldo DeJesus - Percussion

turbobit скачать
gigapeta скачать
rapidgator скачать
katfile скачать


Профиль
(20.09.20 - 09:36) - 007:

pula2012, пожалуйста!