Исполнителей:
2650
| Альбомов:
72530
| Видео:
977
---
Главная
»
Музыка
Perry Smith Quartet - Live In Brooklyn (2018)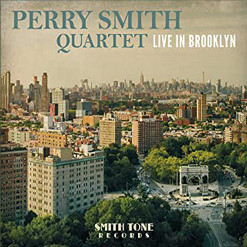 Исполнитель:

Perry Smith Quartet

Название альбома:

Live In Brooklyn

Год выпуска:

2019

Формат файлов:

MP3@320K/s

Размер архива:

119,8 MB

Скачать с:

turbobit/gigapeta/rapidgator/katfile

1 Starlit Skies 9:31
2 Premonition 9:47
3 Don't Worry 'Bout Me 7:35
4 Golden Days 6:38
5 Eternal Triangle 7:40
6 All The Things You Are 9:18

Live In Brooklyn marks the debut of a band led by guitarist Perry Smith. Three of the six tunes are new Smith originals, while the bandleader adds in a version of Rube Bloom's "Don't Worry 'Bout Me," Sonny Stitt's "The Eternal Triangle" and the standard of all standards, Jerome Kern's "All The Things You Are."

Opener "Starlit Skies" sets the album's tone, Matt Aronoff's bass nudging things into a gently loping groove while Smith and saxophonist Melissa Aldana tackle the melody in unison before the guitarist wanders off on a solo journey. His tone is clean, with just enough reverb to give it warmth and presence. The second piece, "Premonition," pulls the same trick, allowing Smith and Aldana to travel a long road together before they embark on individual side paths, exploring the tune's lyrical and harmonic possibilities. It's bebop, with all the flourishes and traded fours that the genre implies, and it makes no attempt to disguise itself as anything else. Which is also the problem.

There's nothing wrong with the music on Live In Brooklyn: Everyone plays well, Smith's compositions are pretty (if unmemorable) and it swings. The bass could be mixed a bit more prominently, but the drums are loud enough to keep the energy level high. Ultimately, though, the album fails to argue convincingly for its own existence. Bebop, after all, had gone from an insurgency to an established language by 1948. The modernist dictum to "make it new" is completely ignored; Smith and his bandmates might as well have put on straw hats and sleeve garters to play Dixieland. This album has nothing to say beyond "on this night, this happened," and that's not quite enough. ~ Philip Freeman

Bass – Matt Aronoff
Drums – Jay Sawyer
Guitar – Perry Smith
Saxophone – Melissa Aldana

Recorded on November 14th, 2018 at the Nest Session in Prospect Lefferts Gardens Brooklyn

turbobit скачать
gigapeta скачать
rapidgator скачать
katfile скачать



Профиль
(13.08.20 - 21:02) - 007:

Шурка, пожалуйста!