Исполнителей:
2650
| Альбомов:
70080
| Видео:
976
---
Главная
»
Музыка
Omer Avital - Qantar: New York Paradox (2020)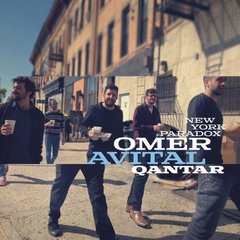 Исполнитель:

Omer Avital

Название альбома:

Qantar: New York Paradox

Год выпуска:

2020

Формат файлов:

MP3@320K/s

Размер архива:

135,7 MB

Скачать с:

turbobit/gigapeta

1. Shabazi (7:05)
2. Zohar Smiles (7:27)
3. New York Paradox (8:00)
4. Just Like River Flows (9:10)
5. It's All Good (Late 90s) (5:15)
6. Today's Blues (6:14)
7. C'est Clair (7:23)
8. Bushwick After Dark (6:35)

Qantar is more than just another group, it is for all intents and purposes a family and a community with its own customs, growing traditions, and even language (both musical and verbal). These five artists have formed a special friendship that projects a singular energy on the bandstand and on their recordings. Indeed, all are Israeli expatriates, all living in Bed-Stuy, Brooklyn, all regularly hanging out at their leader's home, sharing dinner, Turkish coffee, stories, ideas, joys and sorrows. This shared history, even though years apart, imbibes this quintet with the key to Avital's music: the ability to bring the various rhythmic and harmonic vocabularies underpinning 20th and 21st century hardcore jazz expression to flow with a polyphonic attitude and musical multilingualism.

The recording of New York Paradox came together after three years of the guys playing together regularly. It was recorded in Avital's NEW studio/club/lounge - Wilson Live! in Bushwick, Brooklyn, on April 21 & 22, 2019, in a very comfortable, homey environment, captured by the band's good friend, engineer Roy Boukris. Avital added, "we know the room as we have been playing here a lot in the past year and a half, and we recorded in the same room with no separation, no edits, no fixes; we just played the room as if we were on a gig."

Asaf Yuria, tenor and soprano saxophone
Alexander Levin, tenor saxophone
Eden Ladin, piano
Omer Avital, double bass
Ofri Nehemya, drums

turbobit скачать
gigapeta скачать


Профиль
(11.04.20 - 09:07) - 007:

pula2012, пожалуйста!