Исполнителей:
2650
| Альбомов:
72530
| Видео:
977
---
Главная
»
Музыка
Maanouche Swing Quintet - Montreal Jazz-Up (2010)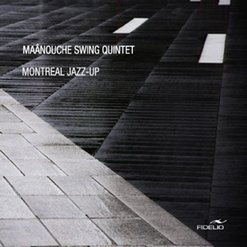 Исполнитель:

Maanouche Swing Quintet

Название альбома:

Montreal Jazz-Up

Год выпуска:

2011

Формат файлов:

MP3@320K/s

Размер архива:

123,4 MB

Скачать с:

turbobit/gigapeta/rapidgator/katfile

1. NICA'S DREAM Horace Silver (arr. Samuel Blais)
2. NARDIS Miles Davis (arr. Damien Levasseur)
3. RUE DE LA ROCHE Damien Levasseur (arr. Damien Levasseur)
4. I FALL IN LOVE TOO EASILY Sammy Cahn/Jule Styne (arr. Samuel Blaise)
5. FOUR Miles Davis (arr. Ivanhoe Jolicoeur)
6. FOOTPRINTS Wayne Shorter (arr. Simon Pagé)
7. I SAID : DAMN LOU PAGE SAM Ivanhoe Jolicoeur (arr. Ivanhoe Jolicoeur)
8. DJANGO John Lewis et le Modern Jazz Quartet (arr. Ivanhoe Jolicoeur)
9. MOANIN' Bobby Timmons (arr. Ivanhoe Jolicoeur)

Founder of the Montreal Gypsy Jazz School, guitarist Lou Boustani formed Maânouche swing ten years ago, a variable geometry group which initially paid homage to the music of Django Reinhardt; 2008 will see the arrival of young and talented guitarist Damien Levasseur and 2010 that of two blowers with solid experience, Ivanohé Jolicoeur, trumpet, cornet and Samuel Blais, sax, clarinet. Wanting to extend the music of Django's last period, when the brilliant gypsy, back from the USA, had taken the bebop train on the way, by quickly assimilating the codes in the company of the young wolves of French jazz, the group then changed somewhat orientation, as evidenced by this disc recorded in 3 days in a church in April 2010, but which only reached me recently.

Lou Boustani and his little comrades combine the gypsy sound of guitars (neither drums nor piano here) with a more modern jazz, the blowers and the repertoire being resolutely turned towards hard bop (Nica's dream by Horace Silver, Footsprint's by Wayne Shorter , Four and Nardis by Miles Davis or Moanin 'composed by Bobby Timmons, who gave his name to the album of Art Blakey and his jazz messengers in 1958). As a result, the name of the group does not really correspond to the music performed, which deviates considerably from what is usually called gypsy swing. If it is commendable to try to think outside the box, to try new things, and if the talent of the musicians is not in question (very good rhythm section, very lively trumpeter and saxophonist), it seems to me that the sauce does not really take hold in this attempt to combine gypsy swing and american modern jazz. Sometimes it feels like the history of jazz is over and that the legacy is carried on more or less happily, with one eye constantly in the rearview mirror. Up to you !

Musicians:

LOU BOUSTANI: RHYTHMIC GUITAR
DAMIEN LEVASSEUR: SOLO GUITAR
SIMON PAGÉ: 6 STRINGS ELECTRIC DOUBLE BASS
IVANHOE JOLICŒUR: TRUMPET
SAMUEL BLAIS: SAXOPHONE - CLARINET - BARITONE SAXOPHONE

turbobit скачать
gigapeta скачать
rapidgator скачать
katfile скачать


Профиль
(8.08.20 - 11:01) - 007:

garson, пожалуйста!