Исполнителей:
2650
| Альбомов:
65616
| Видео:
970
---
Главная
»
Музыка
Jo Stafford - It Had To Be You: Lost Radio Recordings (1950-1951)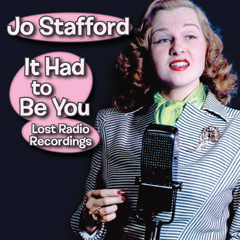 Исполнитель: Jo Stafford Название альбома:

It Had To Be You: Lost Radio Recordings

Год выпуска:

2017

Формат файлов:

mp3,320 kb

Размер архива:

138 mb

Скачать с:

dfiles

01. It Had To Be You
02. Nevertheless (I'm In Love With You)
03. Ain't Misbehavin'
04. I'll Get By
05. Little Girl Blue
06. It's A Lovely Day Today
07. You Love Me Just As I Love You
08. Rain
09. Can't We Talk It Over
10. Teardrops From My Eyes
11. I Love The Guy
12. Orange Colored Sky
13. Drink To Me Only With Thine Eyes
14. It's A Marshmallow World
15. When My Sugar Walks Down The Street
16. Row, Row, Row
17. Where, Oh Where
18. In The Still Of The Night
19. Use Your Imagination
20. The Old Man Of The Mountain
21. I've Got The World On A String
22. Dixieland Band
23. Dream A Little Dream Of Me
24. They Can't Take That Away From Me

Possessing a tone as clear as a bell, perfect diction and phrasing, and no shortage of personality, Jo Stafford was one of the greatest and best-selling female singers of the pre-rock and roll era and beyond; whether it's her early sides with the Tommy Dorsey Orchestra and The Pied Pipers or her classic solo recordings for the Capitol and Columbia labels with arranger/conductor husband Paul Weston, there is no mistaking the sound of that magnificent voice. Now, we at Real Gone Music have a very special treat for fans of this superb, yet to some degree overlooked, vocalist: a treasure trove of 24 radio performances taken from the Carnation Contented Hour, which Jo co-hosted on the Columbia Broadcasting System. These previously unreleased 1950-1951 recordings come to us from the Tony Martin estate courtesy of Michael Feinstein and with the blessing of Jo's son Tim Weston, and are taken from original master tapes, not transcription discs; remastered by Mike Milchner at SonicVision, these are studio quality sessions and thus a major, major find in the Jo Stafford discography. It is such a treat to hear Jo interpret songs like "Dream a Little Dream of Me," "Ain't Misbehavin'" and "I've Got the World on a String" that became big hits for other artists; Joe Marchese's notes put it all in context along with rare photographs from that golden era.

Label: Real Gone Music

скачать


Профиль
(9.10.17 - 09:24) - russel:

Кто ж так парАлично резал трэки??..