Исполнителей:
2650
| Альбомов:
72422
| Видео:
977
---
Главная
»
Музыка
Hal Stein - Warren Fitzgerald Quintet (1955)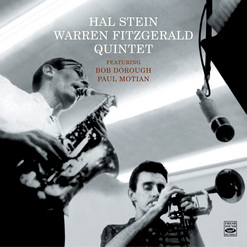 Исполнитель:

Hal Stein

Название альбома:

Warren Fitzgerald Quintet

Год выпуска:

1955

Формат файлов:

MP3@320K/s

Размер архива:

190,2 MB

Скачать с:

turbobit/gigapeta/rapidgator/katfile

When he made his recording debut in 1955 - with an album that was destined to become a cult classic in Japan - Hal Stein was a 27-year-old alto and tenor saxophonist with a solid, big band background. Both he and his co-leader, trumpet player Warren Fitzgerald, another young musician, had just signed for the recently reactivated jazz label, Progressive Records, under the control of Joe Maggio, with Gus Grant in charge of a&r and as session supervisor.

The album revealed Stein as a competent, vigorous soloist, a Bird-molded altoist and a hard-school tenor out of Byas-Hawkins school, and Fitzgerald as a percussive trumpeter with a sharp-toned, rough-edged conception, though not a markedly individual soloist. But the most impressive contributors to the session were also to become the most widely known. Pianist Bob Dorough,later also celebrated as a singer and composer, delivered fluent, inventive solos and offered fine support in a rhythm section notable for the presence of the soon-to-be great and influential drummer, Paul Motian, with Al Cotton on bass.

Stein was to amass an impressive CV during his career, working with players as disparate and notable as Artie Shaw, Charles Mingus, Claude Thornhill and Phil Woods, and remained active until his death on April 28, 2008 in his home in Oakland, California, at the age of 79.

01. Bee Dees Blues (Dorough) 4:31
02. Zounds (Fitzgerald) 5:32
03. Have You Heard
(The Latest Blues in Town) (Newman) 4:49
04. Medley: 7:08
-You Go to My Head (Gillespie-Coots)
-Goodbye (Jenkins)
05. The Sarong is New (Newman) 5:00
06. Nan De Mo Nai (Stein) 6:23
07. Choice Derby (Newman) 5:23
08. This Love of Mine
(Parker-Sinacola-Sinatra) 7:45
09. Do You Really Care? (Fitzgerald) 5:21
10. Twonky (Fitzgerald) 5:01
11. Fitz Tune (Fitzgerald) 5:22
12. Cattin (Stein) 5:48
13. Just Friends (Lewis-Klenner) 5:45
14. Bee Dees Blues [Alternate take] (Dorough) 4:47

Total time: 78:35 min.

Album details

Sources:

Tracks #2-7, 9 & 10, from the Progressive album
"Hal Stein-Warren Fitzgerald" (PLP1002)
Tracks #1, 8 & 11-14, from the Progressive album
"Hal Stein/Warren Fitzgerald Starring Bob Dorough" (7050)

Personnel in all tracks:

Hal Stein-Warren Fitzgerald Quintet
Warren Fitzgerald, trumpet; Hal Stein, alto sax & tenor sax (on #1,6,10,11,12 & 14); Bob Dorough, piano; Al Cotton, bass; and Paul Motian, drums.

Rudy Van Gelders Studio, Hackensack, New Jersey, July 19 (#1-7 & 14), 20 (#8-12), and August 31 (#13), 1955

turbobit скачать
gigapeta скачать
rapidgator скачать
katfile скачать


Профиль
(12.08.20 - 07:11) - 007:

pula2012, пожалуйста!