Исполнителей:
2650
| Альбомов:
73121
| Видео:
977
---
Главная
»
Музыка
Chris Biesterfeldt - Phineas (2014)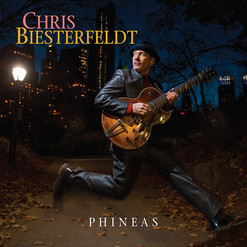 Исполнитель:

Chris Biesterfeldt

Название альбома:

Phineas

Год выпуска:

2014

Формат файлов:

MP3@320K/s

Размер архива:

163 MB

Скачать с:

turbobit/gigapeta/rapidgator/katfile

Review by Mark S. Tucker

The first problem encountered in defining guitarist Chris Biesterfeldt's work is that of categorization and antecedents because, in this guy, that list appears to run to the hundreds, maybe everyone who's ever picked up the six-string axe. Add to that, then, the factor that it often sounds as though he's playing with three hands…no make that four: two for strumming and picking and two more for fretting, and you'll be prepared for what will greet you on the very first cut. Though Biesterfeldt's not laptopping, he's a plectrum guy all the way, this is CandyRat level work, that domain wherein jawdropping hyper-acumen holds sway and makes the rest of us poor bastards gasp and faint. More than once I've had to tie myself down in the face of music like this in order not to turn my cool-ass little Gibson The Paul into toothpicks, full knowing I'll never EVER be able to play like this cat (of course, the fact that I never practice might have some tiny effect in that regard too).
Phineas, named after Chris' enamorment for brilliant pianist Phineas Newborn Jr., is a fast-paced and always swingin' concoction of Herb Ellis, Barney Kessel, Pat Martino, John McLaughlin (post-Mahavishnu), Larry Coryell, Jimmy Bruno, Django Reinhardt, and God only knows how many others along with elements of some more obscure but equally stellar gentz: Janne Schaeffer, Wayne Johnston, Karl Ratzer, etc. And I just know even Mark Knopfler's going to hear this and wonder "How the fuck is he doing that?!?!" in more than one place. Yeah, this CD is classic bebop, but it's also as modern as music comes because the style Biesterfeldt's developing further didn't quite exist back then, not until Tal Farlow 'n those baddest of all the string twanglers came along. Now, Andy Summers and Brian Setzer are going to be leaning in, scratching their pates, and uttering a soft "Day-umn, boy!"
Phineas is pure ear candy for frets aficionados, a constant carousel of revolving wonders even in the ballads (The Midnight Sun Will Never Set). And Jared Sconig is an outstanding, peripatetic, never-resting-for-a-second drummer who takes the sophomore spot in the conversations. In him, we clearly see why rock drummers, even as good as they can be, can never (save for Bruford, Portnoy, Bushy, Baker, etc.) compare to the best jazzers, never. Sorry, rock 'n roll, I love ya, I really really do, but my critic's heart demands verity! Thus, in the trio, Matthew Rybicki's bass is the true foundation rhythm section, plugging away beneath his two compeers, more than once mindful of Larry 'The Mole' Taylor (Canned Heat, John Mayall, Harvey Mandel, and more albums than even Atlas could shoulder).
I'd tell you, dear reader, to rush out and grab this gem, but I chew my fingernails that you'd do so and get hooked on the album, neglecting to go to your slave-job, eating Saltines and Hoo-Hoos so you can remain in situ, rapt with a smile on your face larger than The Joker could ever hope to induce…why, civilization itself might fall!!!, so, no, I won't say that. Ye gods, what restraint we critics must exercise in order to keep the culture safe from the effects of Art! Now, if someone would just nominate me for The Nobel in World-Saving……

01. Harlem Blues (Newborn) - 3:55
02. Sugar Ray (Newborn) - 5:45
03. Cookin' at the Continental (Silver) - 4:21
04. The Midnight Sun Will Never Set (Jones-Salvador) - 5:44
05. Caravan (Tizol-Ellington-Mills) - 7:49
06. Reflection (Bryant) - 4:58
07. Juicy Lucy (Silver) - 5:19
08. Domingo (Golson) - 5:23
09. Phineas (Brown) - 6:47
10. Manteca (Gillespie-Fuller-Tobias) - 5:47
11. Sweet and Lovely (Arnheim-Daniels-Tobias) - 5:46
12. Theme for Basie (Newborn) - 4:13
13. Blues from Phineas (Biesterfeldt) - 3:43

Chris Biesterfeldt - guitar
Matthew Rybicki - bass
Jared Schonig - drums

turbobit скачать
gigapeta скачать
rapidgator скачать
katfile скачать


Профиль
(21.09.20 - 15:55) - 007:

jimmy, пожалуйста!