Исполнителей:
2650
| Альбомов:
61357
| Видео:
969
---
Главная
»
Музыка
Al Di Meola - Opus (2018)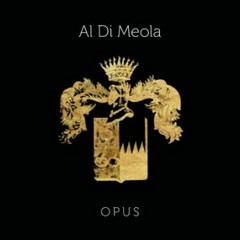 Исполнитель:

Al Di Meola

Название альбома:

Opus

Год выпуска:

2018

Формат файлов:

MP3@320K/s

Размер архива:

134,9 MB

Скачать с:

depositfiles

1 Milonga Noctiva (7:56)
2 Broken Heart (5:23)
3 Ava's Dream Sequence Lullaby (10:02)
4 Cerreto Sannita (5:42)
5 Notorious (5:04)
6 Frozen in Time (3:24)
7 Escapado (4:02)
8 Pomp (1:41)
9 Left unsaid (4:20)
10 Insieme (5:45)
11 Rebels (5:03)

With a curriculum vitae rich of exciting musical moments and incredible works, Al Di Meola is still challenging himself and his music but with a more relaxed way to see things. Over the last few years he has literally started all over, reinventing himself in both, his private life and music, and his brand new studio album Opus truly reflects all of this.
The Grammy award winning virtuoso says: "With Opus I wanted to further my compositional skills as I think that the evolution of this part of my persona has labelled me more composer/guitarist than guitarist/composer. "At the same time, this record also marks a new era in my life. For the first time in my life, I have written music being happy, I'm in a wonderful relationship with my wife, I have a baby girl and a beautiful family that inspires me every day. I believe it shows in the music."

…The album begins with cascading acoustic guitar arpeggios. Textures swell underneath as string lines flow in and out, accentuating melodic lines. A conversation takes place between the guitars which is a reflection of the performers humanity. Mainly peaceful, the guitarists occasionally raise their voices as things get heated. Di Meola demonstrates his dexterity during the composition but the emphasis remains on the sharing of dialogue rather than any vulgar displays of virtuosic shouting.

Built upon an infectious 6/8 groove, Di Meola contrasts the movement in the main riff of Broken Heart with long notes on the electric guitar. The music is like an ocean… seemingly calm while an abundance of activity is taking place below the surface. The beauty within Ava's Dream Sequence Lullaby comes from its connection to traditional harmony, the spaciousness of the instrumentation and the melodic improvised lines. When the music resolves unexpectedly to a major chord, it is a heartwarming experience. The music climaxes with a change of rhythmic feel where gentle percussion work, along with the lack of a bass instrument, produces a delicate lightness. You could almost consume the music with one deep breath.

Di Meola talks about a Led Zeppelin influence creeping in to Notorious. There are no thundering Bonham beats or deliciously chaotic pentatonic guitar runs. The inspiration comes in the form of Led Zep's combination of funk grooves, blues tinged harmony and Eastern scalic investigations. It becomes complicated, and unnecessary, to separate Di Meola's improvisations from the composed melodies. Lines are constructed, which you think are spontaneous, then suddenly they sync up with another instrument. All credit to the compositional detail on the album.

Escapado has a danceable rhythm which is a strong contrast with much of the music heard thus far. The descending chromatic line that underpins the harmony brings a sense of explosive expectation which releases as the drums switch to a half time feel. A cut of the wires before the strain becomes too much to bear.

Rhani Krija duets with Di Meola on Pomp. The string sounds are in such subtle synchronicity with the guitar that it must be assumed they are being trigged by the instrument. It is compositional detail like this that gives the album its depth. Sophisticated and complex lines weave and dance like two intellectuals trying to outwit one another on Insieme. When chords appear they are played with flamenco-like gusto. The introduction of bass brings a textural change and gives weight to aspects of the discussion.

The album closes with the fluid electric guitar lines which Di Meola was so celebrated for while playing with Return To Forever. Beginning as a hard driving jazz rock powerhouse, an unexpected turn is taken into a Cuban piano montuno. This links in with a bass riff which wouldn't sound out of place on a heavy metal album.

Di Meola presents us with one final, understated music lesson. The point of which is that music from across the world is inextricably linked. Of course each genre has its intricacies and its unique elements but perhaps a blind dedication to these traditions prevents a great deal of exciting and innovative music from being created. Di Meola is in no danger of falling in to that trap. — jazzinyork.com

скачать


Профиль
(24.02.18 - 17:24) - 007:

Pepita, пожалуйста.