Исполнителей:
2650
| Альбомов:
79278
| Видео:
994
---
Главная
»
Музыка
The Andy Martin Quartet - It's Fine... It's Andy! (2001)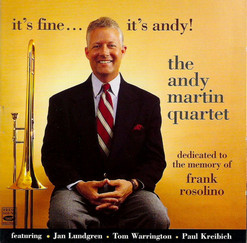 Исполнитель:

Andy Martin Quartet

Название альбома:

It's Fine... It's Andy!

Год выпуска:

2002

Формат файлов:

MP3@320K/s

Размер архива:

148,2 MB

Скачать с:

turbobit/gigapeta/rapidgator/katfile

Andy Martin has played alongside such names as Ray Anthony, Louie Bellson, Buddy Bregman, Frank Capp's Juggernaut, Matt Catingub, Gordon Goodwin, Bill Holman, Tony Kubis, Sammy Nestico, Roger Neumann, Bill Perkins and Tom Talbert, among others. From 1984 to 1998 he worked regularly with the Les Brown's band.

In this album dedicated to Frank Rosolino, he plays for the first time with Jan Lundgren who states: "Andy has taken the best from Frank Rosolino and Carl Fontana and developed a sound of his own. He is a complete musician with good taste and lots of creativity in his playing. Seldom do you meet a musician that is at 'one' with his instrument. To work with Andy was sheer pleasure, so easy and all the time swinging. Without doubt, I dare say he's absolutely one of the greatest trombonists in jazz today. I can't wait to play with him again!"

1. Carl (Bill Holman)
2. Street Scene (Newman)
3. Doxy (Sonny Rollins)
4. The Night Has a Thousand Eyes (Bernier-Brainin)
5. From This Moment On (Porter)
6. Flamingo (Anderson-Grouya)
7. Get Happy (Koehler-Arlen)
8. Nightingale (Wise-Cugat-Rosner)
9. He Ain't Got Rhythm (Berlin)
10.I'm Shooting High (Koehler-McHugh)
11.We'll Be Together Again (Laine-Fischer)
12.Take Me Out of the Ballgame (Norworth-Von Tilzer)

Bass – Tom Warrington
Drums – Paul Kreibich
Piano – Jan Lundgren
Trombone – Andy Martin

Fresh Sound Records – FSR 5037 CD

Recorded August 24 & 25, 2001.

turbobit скачать
gigapeta скачать
rapidgator скачать
katfile скачать


Профиль
(7.07.21 - 13:51) - 007:

pula2012, пожалуйста!