Исполнителей:
2650
| Альбомов:
77583
| Видео:
989
---
Главная
»
Музыка
Sant Andreu Jazz Band - Jazzing 11 vol​.​1 (2021)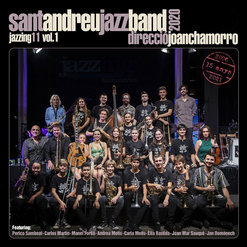 Исполнитель:

Sant Andreu Jazz Band

Название альбома:

Jazzing 11 vol​.​1

Год выпуска:

2021

Формат файлов:

MP3@320K/s

Размер архива:

186,3 MB

Скачать с:

turbobit/gigapeta/rapidgator/katfile

01.Don't Forget This Life Is For You 04:11
02.Don't Explaint 04:37
03.Construçao 06:01
04.Lil Darlin 04:28
05.Teardrops From My Eyes 04:20
06.Smoke In Your Eyes 04:40
07.Let's Call It Love 04:38
08.I Only Have Eyes for You 04:21
09.You don't know what love is 04:54
10.Moten Swing 04:53
11.Blame It on My Youth 05:02
12.You and the Night and the Music 05:20
13.Blues does always win 05:45
14.Embraceable You 05:25
15.Afrodisia 04:38
16.Don't Play That Song 04:53

And we have reached 15 years of existence. Some of the musicians who are part of this new Jazzing were not even born when the project, with more than 60 musicians between the ages of 6 and 21 years old, was started. None of the musicians who were part of the first recording, Jazzing 1 of 2009, is part of the current Sant Andreu Jazz Band (although in this new work, representation of the year 2020, we can find two musicians who were present that year: the Motis sisters, who in this case appear as special guests).
All these years are reflected on the one hand in 21 cd's (11 jazzings, some of them with several volumes) as well as in the 18 Joan Chamorro presents and in Ramon Tort's film A film about kids and music, from 2011.
In the text of Jazzing 1 I spoke of a dream come true. What can I say now, a few years later? That this dream is still alive. That there is still, on my part, if not more, the same illusion as in the beginning. That young people are leaving, but the orchestra remains and continues to be a motivation and a source of learning and inspiration for those who are entering and also for many other musicians who, seeing our work, are motivated and work in the same line as we do.
I can only say thank you, once again, for having the opportunity to live this dream, and to share it with so many people around the world. Thousands of fans know the names of each and every one of the members who are or have been in the orchestra and, once they leave, follow their individual careers. Those followers know our extensive repertoire, they have all our records, they know the different versions of the songs, they know the details, the ins and outs. They are followers of our history, a history that after 15 years has become the history of thousands of people.
The Sant Andreu Jazz Band, a dream come true and based on the fact that what is really important is the present, the path, and not the goal.
THANK YOU!!!

turbobit скачать
gigapeta скачать
rapidgator скачать
katfile скачать


Профиль
(20.04.21 - 15:15) - 007:

garson, пожалуйста!