Исполнителей:
2650
| Альбомов:
78462
| Видео:
989
---
Главная
»
Музыка
Mike Levine - Star Gazing (2017)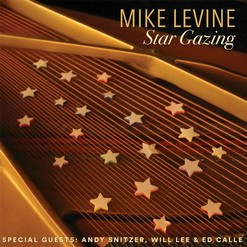 Исполнитель:

Mike Levine

Название альбома:

Star Gazing

Год выпуска:

2017

Формат файлов:

MP3@320K/s

Размер архива:

130,6 MB

Скачать с:

turbobit/gigapeta/rapidgator/katfile

01. Oh Yeah (feat. Dan Warner)
02. Star Gazing (feat. Ed Calle)
03. Rio Funk (feat. Andy Snitzer)
04. Twilight (feat. Ed Calle & Will Lee)
05. Road Song (feat. Lindsey Blair & Will Lee)
06. Sundays Touch (feat. Lindsey Blair)
07. Willy's Gumbo (feat. Ed Maina & Will Lee)
08. Really Wish I Could Love You (feat. Lenard Rutledge & Dan Warner)
09. Getting to It (feat. Lee Levin, Tom McCormick & Will Lee)
10. City of Hope
11. Jaco (feat. Will Lee)
12. The Herb (feat. Will Lee & Sam Levine)
13. Soaring

Pianist and keyboardist Mike Levine unveils his third solo project Star Gazing providing another laid back, Smooth- styled gem of a recording containing a little of everything, from the obvious relaxing mellow melodies, to some swinging sizzling funky material. An artist who has performed with some of the finest musicians on the planet, during his long-distinguished career, Levine is a mainstay, a fixture in Miami's vibrant Latin music and exploding jazz scene. A man of many talents who has delved into various music genres, he seems to gravitate to the Smooth landscape where he feels more comfortable whether on piano or the keyboards.

The pianist delivers twelve originals and one cover tune featuring eighteen musicians performing on selected tracks throughout the recording. Calling on several special guests like saxophonists Ed Calle and Andy Snitzer along with Will Lee on bass, the rhythm section just happens to be, as the pianist states, "The Nucleus of the project..." featuring the leader and bassist accompanied by drummer Lee Levin performing on all tracks except two where son Sam Levine brings the power of "L" to the third degree. Opening up with the high-spirited "Oh Yeah" and the leader on a hot piano, the tune showcases guitarist Dan Warner, and a blistering horn section of Ed Maina, Tom McCormick and Mike Brignola on the saxophones along with trumpeter Jeff Kievit and trombonist Dante Luciani all of whom appear again on the upbeat "Getting to It." The music keeps gyrating on "Willy's Gumbo" featuring the torrid saxophone of master Ed Calle around Levine's key strokes.

The title track and the warm "Twilight," display the kind of feel-good and cozy texture that defines the Smooth style of jazz. Levine and Snitzer let it all hang out on the lively and deliciously funky "Rio Funky" before moving on to the only cover track, Wes Montgomery's 1968 R&B hit "Road Song." Baritone singer LeNard Rutledge lends his marvelous vocals on "Really Wish I could Love you" in one of two vocal tracks where the leader and guitarist Warner are featured prominently. Other noteworthy tunes here are "City of Hope," "The Herb" and the beautiful finale "Soaring," capping off another delightful session of light jazz that will appeal to everyone from the casual listener to the discerning aficionado. Piano and keyboard specialist Mike Levine builds upon what he has previously documented designing another successful and highly- entertaining musical statement on Star Gazing proving the axiom, "the third time is a charm."~ Edward Blanco

Mike Levine: piano. keyboards;
Will Lee: bass;
Lee Levin: drums;
Sam Levine: drums (3, 12);
Richard Bravo: percussion;
Dan Warner: guitar (1-4, 7-10, 13);
Lindsey Blair: guitar (5, 6, 11, 12);
Ed Calle: saxophone (2, 4);
Andy Snitzer: saxophone (3);
Ed Maina: saxophone (1, 7, 10);
Billy Ross: saxophone (12);
Tom McCormick: saxophone (1, 9);
Lenard Rutledge: vocals (8);
Jeff Kievit: trumpet (1, 9);
Dante Luciani: trombone (1, 9);
Mike Brignola: baritone saxophone (1, 9);
Dana Teboe: trombone (12);
Jackson King: vocals (11)

Downtimes Productions

turbobit скачать
gigapeta скачать
rapidgator скачать
katfile скачать


Профиль
(13.06.21 - 17:32) - 007:

pula2012, пожалуйста!