Исполнителей:
2650
| Альбомов:
77583
| Видео:
989
---
Главная
»
Музыка
Abraham Burton, Lucian Ban - Blacksalt (2021)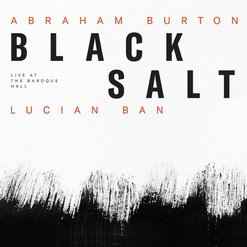 Исполнитель:

Abraham Burton, Lucian Ban

Название альбома:

Blacksalt

Год выпуска:

2021

Формат файлов:

MP3@320K/s

Размер архива:

120,7 MB

Скачать с:

turbobit/gigapeta/rapidgator/katfile

1. Opening - Freeflow (13:35)
2. Belize (7:29)
3. Dad (10:43)
4. Blacksalt (2:58)
5. Interlude (0:57)
6. Untold (6:29)
7. Not That Kind of Blues (8:48)

Meaningful musical partnerships can emerge from musicians of any persuasion and background. The language of jazz has tended to be the most pliable, as composers and improvisers have been able to bend to meet the demands of differing situations, making moving music that resonates in the moment.

Saxophonist Abraham Burton and pianist Lucian Ban come from two distinct backgrounds but founded a long-lasting relationship based on friendship, trust, and their collective passions, most notably their focus on melodicism and jazz feel. Their new recording, Blacksalt, encapsulates the sympathetic nature of their pairing in a freely played collection of pieces, composed and improvised, and pristinely recorded live on tour in Ban's native Transylvania in 2018.

Burton grew up a first generation American of Belizean descent in the exciting world of New York City. By his late teens, the saxophonist was already apprenticing with the legendary drummer Arthur Taylor and fortifying his foundation playing alongside jazz luminaries like Jackie McLean, Walter Bishop and Roy Haynes. Burton's rich tone and bold playing style have helped him to maintain his position in the top tier of jazz's saxophone stylists, a player who can supply whatever is needed in any musical situation.

Pianist Ban grew up in Romania and came to New York City to pursue his dream of becoming a mover in the City's incredible jazz scene. His particular approach to the music has generally led him into more avant-garde spheres, but his composing style has always attracted collaborators of all stripes and influences. The music that Ban makes brilliantly straddles the line between the mainstream and the experimental.

Burton and Ban were introduced by drummer Bruce Cox in 2006. Their immediate rapport was only intensified by their mutual appreciation for each other's talents. Ban enjoyed the saxophonist's sound and melodic sense and Burton was impressed by Ban's beautiful, purposeful writing and musical breadth. Once they developed trust, the music really began to flow. Their mutual appreciation for the jazz tradition and ballads insured that these diehard romantics had found in each other a musical companion that would not only push, but in any musical context. The pairing became regular when Ban invited Burton to join his band, Elevation, which has recorded two well-received albums for Sunnyside.

The two began playing duo concerts not too long afterward, cementing the cause when they were invited by Todd Barkan to perform at Dizzy's Club Coca-Cola's Late Night sessions and met with an incredible response. The two have continued these well-received events throughout New York City and on a number of European tours. On June 5, 2018, the last night of an eleven-stop tour of Europe, Burton and Ban had the opportunity to record Blacksalt at The Baroque Hall in Timisoara.

The recording demonstrates just how powerful the musical message of the duo had become after nearly a decade and a half of collaboration. The trust can be heard as the two play without a setlist, utilizing pieces composed individually and collectively in a fluid exchange of ideas. The two approach their music with no expectations, just honesty.

The recording begins with Burton's warm sax incanting an invitation to Ban's bluesy, pointillistic piano on "Opening / Freeflow," which begins to blossom as the pair begin to explore the sound space, the saxophone's soaring above the piano's churning. The dancing "Belize" utilizes a musical sketch by Ban which evolved into a rhythmic exercise with Burton's muscular saxophonics forever stretching over the top. Burton's "Dad" from his album Cause & Effect is revisited in this haunting version, a gorgeous, collected tribute to an inspirational man of few words.

The title tune shows the diversity of their emotional and stylistic range in a brief, invigorating dialog. Burton's solo "Interlude" showcases the saxophonist's stunning command of the post-bop language and unimpeachable melodicism, which leads into Ban's "Untold," a stunningly complex ballad that shows the composer's classical music leanings. The recording concludes with Ban's chestnut, "Not That Kind of Blues," a profound statement of the duo's connection to the most essential element of jazz in any trajectory, the blues.

Over the past fifteen years, Abraham Burton and Lucian Ban have learned each other's personalities and habits, on and off the bandstand. Their well-tuned friendship can be appreciated fully on Blacksalt, a recording that finds its grounding in jazz's diverse arch, the blues that binds it together, and a familial spirit.

Abraham Burton - tenor saxophone
Lucian Ban - piano

Sunnyside Records

turbobit скачать
gigapeta скачать
rapidgator скачать
katfile скачать


Профиль
(15.04.21 - 20:35) - Шурка:

Это лучшее из услышанного в этом месяце. Спасибо, Агент

Профиль
(16.04.21 - 10:34) - 007:

Шурка, пожалуйста!

Профиль
(17.04.21 - 10:30) - 007:

pula2012, пожалуйста!