Исполнителей:
2650
| Альбомов:
77044
| Видео:
989
---
Главная
»
Музыка
Will Sellenraad & Root Down - Star Hustler (2003)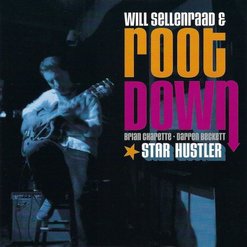 Исполнитель:

Will Sellenraad & Root Down

Название альбома:

Star Hustler

Год выпуска:

2003

Формат файлов:

MP3@320K/s

Размер архива:

117,7 MB

Скачать с:

turbobit/gigapeta/rapidgator/katfile

01. Go Get It
02. Leprechaun
03. Star Hustler
04. 197 Henry
05. Bag of Jewels
06. Play It Back
07. Live Wire
08. Major Mishap
09. Frightened People
10. Armegeddon
11. Go Get It (Revisited)

The great organ trios of the '60s were sustained by people who loved fun, carefree, and relative music. Whether in smoky clubs, or backwoods watering holes, the music was for, and about the people. The visceral art of the jazz organ trio is exactly what Will Sellenraad & Root Down's Star Hustler delivers. To the point: Music that is simply funky, entertaining, and engaging. The backwoods of guitarist Sellenraad are the concrete streets of New York, where he has gigged with a variety of area musicians and notables from Brian Blade to Victor Lewis. His own group Root Down exploits the talents of Brian Charette on organ and Darren Beckett on drums.

A heavy groove flavor here brings to mind past great trios, but it's updated with a modern approach. This music is not about the quick burn, but more so a tempered heat that cooks slow. Sellenraad's skillful fingers provide sizzling solos, but also a nice rhythm work on the groovacious cut "Leprechaun." His clean sound, with mature, and thoughtful chops enliven the great Lonnie Smith funk jam 'Play it Back.' Organist Charette does a fine job on the B3, dishing out the goods whether soloing or comping. His Hammond purrs, speaks, or screams, to fit the mood. Drummer Darren Beckett shows impressive cymbal work on the smooth number 'Major Mishap.' With a nice mix of originals as well as covers, the mix is not monotonous. The cr'me of the grits might just be the stellar Wayne Shorter composition 'Armageddon,' which offers solid evidence that the modern jazz organ trio still lies in capable hands.
MARK F. TURNER

Will Sellenraad - guitar; Brian Charette - Hammond B3 organ; Darren Beckett - drums.

turbobit скачать
gigapeta скачать
rapidgator скачать
katfile скачать


Профиль
(27.02.21 - 12:07) - 007:

BarensTone, пожалуйста!