Исполнителей:
2650
| Альбомов:
69972
| Видео:
976
---
Главная
»
Музыка
Tom McDermott - Tom McDermott Meets Scott Joplin (2019)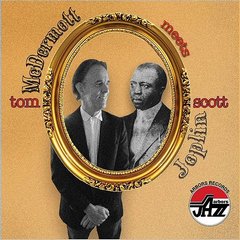 Исполнитель:

Tom McDermott

Название альбома:

Tom McDermott Meets Scott Joplin

Год выпуска:

2019

Формат файлов:

MP3@320K/s

Размер архива:

175,4 MB

Скачать с:

turbobit.net

1. The Easy Winners (3:44)
2. Magnetic Rag (5:23)
3. The Strenuous Life (2:47)
4. Gladiolus Rag (4:32)
5. Pineapple Rag (3:57)
6. Rose Leaf Rag (4:47)
7. Maple Leaf Rag (5:22)
8. Fig Leaf Rag (4:56)
9. Rosebud March (2:33)
10. Euphonic Sounds (4:04)
11. The Entertainer (5:15)
12. Sunflower Slow Drag (3:47)
13. Searchlight Rag (1:31)
14. Something Doing (3:51)
15. Swipesy Cakewalk (5:22)
16. Heliotrope Bouquet (5:28)
17. The Chrysanthemum (5:41)

Jazz pianist Tom McDermott has a sense of humor that can lead to some tricky situations. One incident, in particular, could even have led to legal woes when he pulled a sly one in an effort to prove a pet theory concerning a jazz festival that he was unable to break into as a performer. He knew the failure wasn't due to any defect in his skills as a musician. He'd been pleasing audiences in his adopted home of New Orleans for a while. More likely, he believed, the problem was due to something more personal and McDermott set out to prove his theory. He applied again to the festival, this time with a new recording. He doctored up a few other items necessary to the application process, including a bogus review and a few recommendations, which he sent in for the festival's consideration under a pseudonym. It didn't take long for McDermott to find out that his theory was right. Word soon came back that organizers wanted the fake applicant to perform at their jazz festival.

The Missouri native was born into a musical family in 1957, the son of a ragtime-playing mother who also played the organ in church. He devoted eight years to piano lessons, taking instruction from an aunt starting when he was six years old. By his early teens, McDermott became turned on to Scott Joplin and ragtime, and he started composing his own music in a similar vein. He became a professional musician when he was 16, and in 1981 Stomp Off issued McDermott's first album of original rags, appropriately titled New Rags. He attended St. Louis University on a scholarship and earned a degree in art in 1978. Work as a freelance writer followed, with McDermott frequently penning music-related articles for newspapers. Beginning in 1980, he spent three years working as the Globe-Democrat's music critic. During this period, he also pursued a master's degree, which he completed in 1982 at Washington University.

The city of St. Louis couldn't hold the pianist when he was offered work at the New Orleans World's Fair, and he relocated to the Crescent City in 1984. McDermott was drawn by the music of some of Louisiana's finest native artists, including Dr. John, Professor Longhair, and James Booker. He didn't lack for employment, readily finding gigs as a solo performer. In time, he also started working with jazz bands. Beginning in 1990, he devoted five years to the Dukes of Dixieland and appeared with the band at Carnegie Hall. He left the outfit in the spring of 1995 to play on the American Queen, a Mississippi riverboat that had just launched its first season. He continued to record and compose, and in 1994 he helped form a brass band, the New Orleans Nightcrawlers. He acted as arranger and producer for the outfit's Rounder Records debut. ~Linda Seida

Tom McDermott – piano
Evan Christopher – clarinet
Sergio Krakowski – pandeiro
Henry Lentino – bandolim
Ciao Marcio – guitar
Rick Trolsen – trombone

скачать


Профиль
(24.04.19 - 12:45) - 007:

Vickers, пожалуйста!