2650
| јльбомов:
77044
| ¬идео:
989
---
√лавна€
ї
ћузыка
Thomas Ferri Quartet - Blues for Eileen (2018)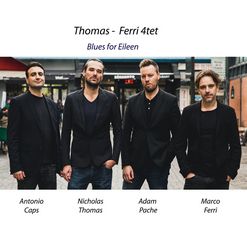 »сполнитель:

Thomas Ferri Quartet

Ќазвание альбома:

Blues for Eileen

√од выпуска:

2018

'ормат файлов:

MP3@320K/s

–азмер архива:

75,4 MB

—качать с:

turbobit/gigapeta/rapidgator/katfile

1 Blues for Eileen (6:10)
2 Crazy Ciuck (4:47)
3 Sole (5:03)
4 The Night Has Thousand Eyes (6:30)
5 Parker 51 (4:20)
6 204 (4:54)

An international Quartet made up of 4 musicians residing in different countries have decided to give life to this project which offers a new and original jazz thanks to the association of vibraphone, hammond, sax and drums. On April 6th their new CD was released: Blues for Eileen for the French label DSYparis.

The QUARTET, led by two established Italian artists such as Marco Ferri on tenor sax (winner of the Massimo Urbani prize and director of the Jazz In'it Big Band) and Nicholas Thomas (Italian by birth but living in Paris, considered among the most promising European vibraphonists ), uses the well-known pianist and hammondist Antonio Caps (formerly with Greg Hutchinson, Shawn Monteiro, Fabrizio Bosso, Eric Alexander) and the Australian drummer Adam Pache (ClarkTerry, Christian McBride, Steve Grossman, Jeremy Pelt are some of the American reads with whom played and recorded in recent years).

In recent months, several TOURS have taken place in France and Italy. The Thomas - Ferri 4tet has already performed at the Caveau de la Huchette (Paris), Jazz Club Capolinea 8 (Turin), Cantina Bentivoglio (Bologna), Le Canapé (Gif-Sur-Yvette), Otto JazzClub (Naples), Teatro delle passioni (Modena), Atalante (Paris), Cantina Garibaldi (Cavriago) and held an internship for young jazz players at Villa Minozzo.

Nicholas Thomas - Vibraphone
Marco Ferri - Sax
Antonio Caps - Hammond Organ
Adam Pache - Drums

turbobit скачать
gigapeta скачать
rapidgator скачать
katfile скачать


ѕрофиль
(25.03.21 - 21:18) - 007:

aleko_tot, пожалуйста!