Исполнителей:
2650
| Альбомов:
76194
| Видео:
980
---
Главная
»
Музыка
The Slide Hampton Octet - Two Sides Of Slide (1959/1961)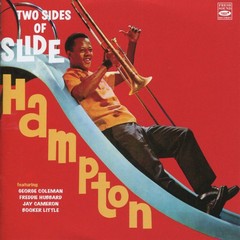 Исполнитель:

The

Slide Hampton

Octet

Название альбома:

Two Sides Of Slide

Год выпуска:

2004

Формат файлов:

MP3@320K/s

Размер архива:

172 MB

Скачать с:

turbobit.net

01. Newport (S.Hampton)
02. Autumn Leaves (Prevert-Kosma)
03. Althea (S.Hampton)
04. Jazz Corner (S.Hampton)
05. Sometimes I Feel A Motherless Child (Traditional)
06. Go East, Young Man (S.Hampton)
07. Patricia (S.Hampton)
08. Woodyn' You (D.Gillespie)
09. There's A Boat Dat's Leavin' Soon For New York (G.Gershwin)
10. Bess, You Is My Woman Now (G.Gershwin)
11. Summertime (G.Gershwin)
12. I Love You Porgy (G.Gershwin)
13. It Ain't Necessarily So (G.Gershwin)
The Cloister (Dance Suite) (S.Hampton)
14. Part I Impression
15. Part II Obsession
16. Part III Expression
17. Part IV Possession

The two octets Slide Hampton uses on this recording are quite similar in content but different in the way they execute this music, and much of it has to do with the distinct difference in personnel, and the two years that separate their recording dates. The first half deals with hard to post-bop modifications and the way the group approaches a bridge between the two, while the other end of the program concentrates on interpretations the music written by George Gershwin, plus an extended four-part suite written by Hampton. These dual sides of Slide Hampton combine to form a complete picture of what the emerging arranger and trombonist offered as a individualist aside from peers (Quincy Jones, J.J. Johnson, Lalo Schifrin, et. al.) who concentrated on movie soundtracks. The sessions from 1959 include Bernard McKinney on the baritone horn, three different drummers (Kenny Dennis, Charlie Persip, and Pete LaRoca) on select tracks, and fledgling young trumpeters Booker Little and Freddie Hubbard, even though Burt Collins does all of the lead brass work with Hampton. "Newport" starts the set in a modal walk, the intro initially similar to "You Don't Know What Love Is," then merges into a steady streaming freight train jam. Four other Hampton originals range from the Latin unison call outs and boogaloo/bop "Althea" (assumedly for tennis star Althea Gibson), the regal "Go East, Young Man" based on the changes of "Milestones," the much quieter post-bopper "Jazz Corner," and the simple straight bop of "Patricia."

Standards "Autumn Leaves," "Sometimes I Feel Like a Motherless Child," and "Woody 'n' You" feature add-ons from the originals like chatty, choppy horns, more anthemic than normal hues, and a harder, abundant, modified line, respectively. A slightly less potent but still talented lineup from 1961 plays the five Gershwin pieces, with "There's a Boat Dat's Leavin' Soon for New York" again richly enhanced with a little rock & roll beat tossed in; "Summertime" is performed via high drama, and "It Ain't Necessarily So" is dressed in Latin trim. George Coleman is the lone artist besides Hampton and baritone saxophonist Jay Cameron on the entire date, and the always effervescent tenor saxophonist gets a laid-back solo during "I Loves You Porgy." The "dance" suite "The Cloister" is impressionistic within ballad, easy swing, slightly urgent waltz, and frantic bop segments, with some call and response at the end. Other than some drum fills from Lex Humphries, the piece is played to strict tolerances, and over some 14 minutes, is not as memorable as the other tracks, although hinting at future projects of Hampton's. As solid musically as any mainstream jazz fan might need, this is an important prelude to other large ensemble projects Slide Hampton assembled, and deserves repeat listenings to fully reap its rewards. ~ Michael G.Nastos

ON TRACKS [1-8]: Recorded in New York, 1959: SLIDE HAMPTON, trombone; FREDDIE HUBBARD, BOOKER LITTLE, BURT COLLINS, trumpet; BERNANRD McKINNEY, baritone horn; GEORGE COLEMAN, tenor sax & clarinet; JAY CAMERON, baritone sax, bass clarinet; GEORGE TUCKER, bass; PETE LaROCA, KENNY DENNIS, CARLIE PERSIP, drums

ON TRACKS [9-17]: Recorded in New York, 1961: SLIDE HAMPTON, BEN JACOBS-EL, trombone; HOBART DOTSON, WILLIE THOMAS, trumpet; GEORGE COLEMAN, tenor sax; JAY CAMERON, baritone sax; EDDIE KAHN, bass; LEX HUMPHRIES, drums

скачать


Профиль
(27.04.19 - 12:37) - russel:

В 1994-ом испанский лэйбл переизданий Fresh Sound Records издавал эту компиляцию, составленную из двух номерных пластинок тромбониста: Horn Of Plenty '59 и Two Sides Of Slide Hampton '61, как The Slide Hampton Octet - Slide! (и на сайте она была). Это очередное пере- уже 2004 года, в 2010-ом ещё раз печаталось.

Одним словом, re-up ))

Профиль
(28.04.19 - 01:55) - Jaro:

Да, Джазмен, вроде бы, всего Хэмтона "выложил")

Профиль
(7.05.19 - 16:23) - 007:

Vickers, пожалуйста!