Исполнителей:
2650
| Альбомов:
64180
| Видео:
970
---
Главная
»
Музыка
Tal Farlow - Complete 1956 Private Recordings (2002) re-up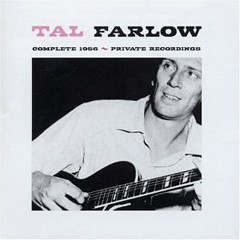 Исполнитель: Tal FarlowНазвание альбома:

Complete 1956 Private Recordings (2CD)

Год выпуска:

2002

Формат файлов:

mp3, 320 kb

Размер архива:

211 mb

Скачать с:

dfiles

CD 1
1. Jordu
2. Have You Met Miss Jones
3. Out Of Nowhere
4. Opus De Funk

CD 2
01. All The Things You Are
02. I Remember You
03. Yesterdays
04. Let's Do It

Bass – Vinnie Burke
Guitar – Tal Farlow
Piano – Eddie Costa

Rec.: December 18, 1956.

Definitive Records from Spain has been issuing very exciting re-releases and unusual items for years now, but in 2002 they picked up the pace with a series of recordings that had not been seen on U.S. shores on compact disc before. This double CD was issued as two separate albums on the Xanadu label under the titles Fuerst Set and Second Set - the man who recorded them was jazz enthusiast Ed Fuerst. While the sound here is in mono, and a tad distorted because it wasn't recorded in a studio but in a New York City apartment, the performance of this trio of Farlow with pianist Eddie Costa and bassist Vinnie Burke is among the finest items ever released in his catalog and reveals more than his recordings with Hank Jones and Oscar Pettiford the following year. The program is a varied one - Duke Jordan's skippy yet funky "Jordu," Rodgers & Hart's "Have You Met Miss Jones," Horace Silver's "Opus de Funk," the Johnny Mercer nugget "I'll Remember You," a nine-minute turnaround romp on "I'll Remember April," and a nearly 11-minute version of Cole Porter's "Let's Do It." Of course, Farlowand Costa were not so interested in moving these tunes in a direction that mirrored themselves as songs, but rather as vehicles for stretching, and in many of the cases here completely reinventing harmonic structures. The middle section of Jordan's "Jordu" gets choppy and swirly and goes from minor to major to minor ninth and back again, turning on a dime with Farlow's driven arpeggio scales splitting both harmony and melody apart and exchanging them. Burke's drumming is amazing for its alacrity and verve in keeping a session this adventurous on track. There are many Tal Farlow Triorecordings with a host of musicians, many of them great, but these sessions tie the seam that marries both the hard swinging plectrum style of Charlie Christian to the harmonic and rhythmic mind of Charlie Parker. These recordings are simply amazing and belong in every guitar jazz library.--AllMusic Review by Thom Jurek

Label: Definitive Records

скачать


Профиль
(6.10.18 - 10:53) - bitnik:

Спасибо!