Исполнителей:
2650
| Альбомов:
63184
| Видео:
970
---
Главная
»
Музыка
Stephan Kramer With Sheila Jordan & Chris Lachotta - Thank You Sheila! (2018)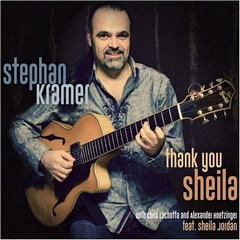 Исполнитель:

Stephan Kramer,

Sheila Jordan

, Chris Lachotta

Название альбома:

Thank You Sheila!

Год выпуска:

2018

Формат файлов:

mp3, 320 kbps

Размер архива:

149,9 mb

Скачать с:

turbobit.net

01. When I Grow Too Old To Dream (3:21)
02. Sheila Introduces The Duo (2:13)
03. Hum Drum Blues (2:13)
04. Like Someone In Love (4:40)
05. Sheila Talks About Bird (0:58)
06. If I Should Lose You (6:29)
07. The Promise Of You (4:39)
08. Stephan Says Thank You (1:02)
09. Look For The Silver Lining (3:15)
10. Yardbird Suite (4:52)
11. Useless Landscape (4:55)
12. Sheila Points Out The Tie (0:56)
13. How Deep Is The Ocean (6:54)
14. Lady Be Good (4:13)
15. Sheila Talks About Nyc (0:22)
16. Autumn In New York (6:48)
17. Estate (3:43)

Sheila Jordan, Stephan Kramer and Chris Lachotta - how can I rewrite this connection? An attempt: the gentle and exhilarating jazz sounds & Latin grooves take the listener into their own magical world of formation. You feel almost as close to the musicians as if you listened to their music in a small New York jazz club and would end the evening in style with a glass of wine.

Sheila Jordan brings along a tremendous scatvocabulary with a rare depth of interpretation, her serene life experience carries the whole thing: fearlessly and casually she creates intricate phrasing and rhythmic specials that one might think were nursery rhymes. Always with you: heart and soul. Every word, every phrase seems to have meaning, is filled with lived life.

Stephan Kramer accompanies to the point, sensitively captures every mood, every note of the singer and complements it with his own jazz language. You could almost be jealous as a singer ... Whether fast, sweeping chord changes or thoughtful Flageolet sounds, this music is still unique. It's nice to hear the change of hands, to experience the handmade music in his guitar playing.

Last but not least there is Chris Lachotta on the bass, who gives the whole a primed frame, sometimes soft and dreamy with the use of the bow, sometimes plucked and striding forcefully. Also one or the other bass solo can be heard.

скачать


Профиль
(19.10.18 - 19:23) - bitnik:

Спасибо!