Исполнителей:
2650
| Альбомов:
64739
| Видео:
970
---
Главная
»
Музыка
Statesmen Of Jazz - A Multitude Of Stars (2006)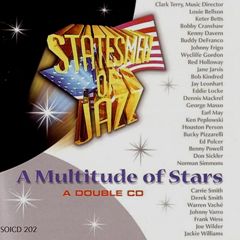 Исполнитель:

Statesmen Of Jazz

Название альбома:

A Multitude Of Stars (Double CD)

Год выпуска:

2006

Формат файлов:

mp3 320kb/s cbr

Размер архива:

Total 340mb

Скачать с:

depositfiles

Sorting out who played what on A Multitude of Stars isn't, at first glance, easy, mostly because the Statesmen of Jazz consists of about 30 musicians. Luckily, they take turns playing in fairly large combos under various leaders over the course of two discs. The talent involved is enormous, and even naming a handful of the participants -- Clark Terry, Red Holloway, Ken Peplowski, Kenny Davern, and Bucky Pizzarelli -- impresses. Each group is allowed three to six pieces to show off their particular style, giving listeners plenty of time to assess and enjoy each set. Terry leads the first group, and they kick off with two of his originals -- "Top and Bottom" and "Elijah" -- before delving into an eight-minute romp on Bessie Smith's "Backwater Blues" with a fine vocal by Carrie Smith. Terry's fairly modern set makes way for Ed Polcer's backward glance with clarinetist Peplowski in tow. There's an enormously fun take on "Honeysuckle Rose," and a short but sweet version of the Gershwins' "Shall We Dance." There are other sets by leaders Benny Powell, Buddy DeFranco, Johnny Frigo, and Joe Wilder. Finally, A Multitude of Stars seems like an overly full sampler, giving one a chance to dip into the repertoire of seven different groups. As with other Arbors releases, the players always sound like they're in the zone, delivering imaginative music even when relying on older forms. A Multitude of Stars is a very enjoyable and well-played set.
~ Ronnie D. Lankford, Jr.

Label - Arbors
Nola Studios, New York, NY (12/08/2003-12/10/2003)

Carrie Smith (vocals); Clark Terry, Joe Wilder (trumpet, cornet, flugelhorn); Don Sickler, Ed Polcer, Warren Vachй (trumpet, cornet); Earl May, Jay Leonhart, Keter Betts, Bob Cranshaw (double bass); Johnny Frigo (vocals, violin); Bucky Pizzarelli (guitar); Ken Peplowski (clarinet, alto saxophone); Kenny Davern, Buddy DeFranco (clarinet); Frank Wess, Houston Person, Red Holloway, Bob Kindred (tenor saxophone); George Masso, Wycliffe Gordon, Benny Powell (trombone); Derek Smith , Jane Jarvis, Johnny Varro, Norman Simmons (piano); Dennis Mackrel, Eddie Locke, Jackie Williams , Louie Bellson (drums)

CD 1
1. Top And Bottom 6:42
2. Elijah 6:20
3. Backwater Blues 7:56
4. The Man I Love 6:23
5. Just An Old Manuscript 11:25
6. Cherry 6:54
7. Honeysuckle Rose 3:50
8. Tambourine (Tangerine) 5:05
9. Shall We Dance 2:49
10. Farewell Blues 3:36
11. Corner Pocket 5:41
12. Why Do I Love You? 5:02
13. Shiny Stockings 5:10
77:02

► скачать

CD 2
1. If I Had You 7:27
2. Love Me Or Leave Me 6:03
3. Medley: New Orleans, These Foolish Things, Poor Butterfly, Street Of Dreams 7:34
4. Fascinating Rhythm 6:09
5. My Shining Hour 3:16
6. There Will Never Be Another You 3:21
7. Isn't It Romantic? 4:44
8. Here's That Rainy Day 3:36
9. I'm Growing Young With You 4:07
10. Emily 3:48
11. I Hear Music 4:40
12. Rockin' Chair 5:06
13. Just You, Just Me 4:26
14. Bags' Groove 6:40
15. Sweet Georgia Brown 2:38
73:42

► скачать



Профиль
(20.09.18 - 14:55) - Asmadey:

Спасибо, dear Glam! Всего Вам самого джазового!