Исполнителей:
2650
| Альбомов:
73293
| Видео:
977
---
Главная
»
Музыка
Stan Kenton - Easy Go (1950-1952)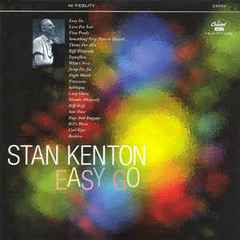 Исполнитель: Stan KentonНазвание альбома:

Easy Go

Год выпуска:

2001

Формат файлов:

MP3@320K/s

Размер архива:

154,9 MB

Скачать с:

depositfiles

1. Easy Go
2. Love For Sale
3. Viva Prado
4. Something New (Sunset Tower)
5. Theme For Alto
6. Riff Rhapsody
7. Dynaflow
8. What's New
9. Jump For Joe
10. Night Watch
11. Francesca
12. Soliloquy
13. Lazy Daisy
14. Mambo Rhapsody
15. Riff Raff
16. Star Dust
17. Bags And Baggage
18. Bill's Blues
19. Cool Eyes
20. Beehive

Personnel: Stan Kenton, piano, arranger; Ruban McFall, trumpet; Dick Meldonian, sax; Clyde Reasinger,trumpet; George Roberts, trombone; Jimmy Salko, trumpet; Ray Wetzel, trumpet; Ralph Blaze, guitar; Al Porcino, trumpet; Johnny Halliburton, trombone; Dick Kenney, trombone; Paul Weigand, trombone; Don Dennis, trumpet; Bart Caldarell, sax; Jack Millman, trumpet; Mike Pacheco, timbales; Johnny Richards, arranger; Shorty Rogers, arranger, trumpet; Herbie Steward, sax; Milt Bernhart, trombone; Harry Betts, trombone; Bob Fitzpatrick, trombone; Bob Gioga, Sax; John Howell, trumpet; Laurindo Almeida, guitar; Eddie Bert, trombone; Conte Candoli, trumpet; Frank Capp, drums; Buddy Childers, trumpet; Eddie Gomez, maraccas; Herbie Harper, trombone; Bill Holman, Sax; Shelly Manne, drums; Art Pepper, sax; Bud Shank, sax; Don Bagley, bass; Pete Candoli, trumpet; John Graas, French horn; Lennie Niehaus, Sax; Gene Roland, arranger; Pete Rugolo, arranger; Bill Russo, arranger, trombone

Easy Go is a compilation of straight ahead charts recorded by the Kenton band in the years 1950-52 between tours of the Innovations Orchestra. While an artistic triumph, the Innovations Orchestra was not so successful financially, and Kenton had to record a number of albums devoted to just dance and swing tunes to recuperate his losses. Nevertheless, these recordings feature the Kenton band at its most swinging and most relaxed. And all the critics who have said that Kenton never swung need only listen to this CD to hear how wrong they've been over the years. What a collection of sidemen and arrangers. Stan Kenton, Pete Rugolo, Shorty Rogers, Gene Roland, Johnny Richards and Bill Russo all contributed charts. As an example of the range of jazz greats on this album, the trumpet section included Ray Wetzel, Buddy Childers, both Candoli brothers, Shorty Rogers, Al Porcino, and a young kid from Montreal named Maynard Ferguson. Most of the tunes included on Easy Go are long familiar to Kenton fans. Of all the great arrangers whose works appear on this CD, Shorty Roger's original tune "Viva Prado" and his rendition of the standard "What's New" stand out among the crowd. Another chart of special interest is William Russo's "Bill's Blues," one of the most swinging compositions ever penned by the most cerebral of the Kenton stable of composer/arrangers. Easy Go is a must for all Kenton fans and a good starting point for those who are new to the Creative World of Stan Kenton. ~ William Grinnm

скачать


Профиль
(25.09.17 - 20:30) - Asmadey:

Спасибо, dear 007! Получил большое удовольствие! Всего Вам самого джазового!

Профиль
(25.09.17 - 20:52) - 007:

Asmadey, пожалуйста!