Исполнителей:
2650
| Альбомов:
72422
| Видео:
977
---
Главная
»
Музыка
Sonny Stitt With The New Yorkers - Sonny Stitt With The New Yorkers (1957) re-up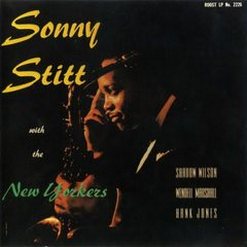 Исполнитель: Sonny Stitt

, The New Yorkers

Название альбома:

Sonny Stitt With The New Yorkers

Год выпуска:

1957

Формат файлов:

MP3@320K/s

Размер архива:

102,5 MB

Скачать с:

turbobit/gigapeta/rapidgator/katfile

A1 The Best Things In Life Are Free 5:00
A2 Engos, The Bloos 3:40
A3 It Might As Well Be Spring 5:40
A4 Cherokee 4:05
B1 I Didn't Know What Time It Was 4:30
B2 Body & Soul 3:52
B3 People Will Say We're In Love 4:50
B4 Bloosey 3:45
B5 Birds' Eye 4:15

SUPERB is right! I have rarely, if ever, heard Sonny Stitt sound like this. Everybody knows about his instrumental prowess, so let's talk about his sound for a moment. On this particular album, Stitt's sound is so rich, so full, so visceral, it sounds as if he's gonna pop right out of the speakers and play in your living room right next to you. I have NEVER heard Sonny play with such a full, enveloping tone as he does here. At first, I thought he might have quit smoking or something, but there he is with holding a cigarette on the cover. But he must have done something to obtain the lavish, sumptuous timbre he plays with on With the New Yorkers.

And speaking of which, the New Yorkers in question (Hank Jones on piano, Wendell Marshall on bass, and Shadow Wilson on drums) support Stitt with aplomb here, never getting in the way, but playing more than we are accustomed to from rhythm sections on Sonny's Roost albums). Hank Jones plays several fine solos throughout, and comps well behind Stitt's solos. And what solos they are! Sonny, in addition to sounding better than usual tonally, is very much inspired throughout this disc. Maybe he ate his Wheaties the morning of this session. I mean, he usually sounds good, but he has never, to my knowledge, sounded THIS good. I'm talking in terms of tone, power and timbre. What a transparent, beautiful sound!

When I noticed that there were no reviews for this album, I knew I had to review it! There are well over one hundred Stitt albums recorded and some of them are bound to get lost in the shuffle. So I considered it my civic duty to turn people on to this album, so I could tell the world (assuming that Amazon RR readers represent the world) the this is an astonishing record that you shouldn't miss. Please note that I am reviewed the Fresh Sounds vinyl reissue here, and the pressing is excellent. If you only need one Stitt album in your jazz collection, you can't possibly do better than choosing Sonny Stitt and the New Yorkers (uh, doesn't he play with "New Yorkers" on all his albums?). -review by Dan Feldman

Sonny Stitt - alto saxophone
Hank Jones - piano
Wendell Marshall - bass
Shadow Wilson - drums

turbobit скачать
gigapeta скачать
rapidgator скачать
katfile скачать


Профиль
(10.08.20 - 17:23) - 007:

pula2012, пожалуйста!