Исполнителей:
2650
| Альбомов:
66167
| Видео:
970
---
Главная
»
Музыка
Sonny Rollins And Coleman Hawkins - Sonny Meets Hawk! (1963)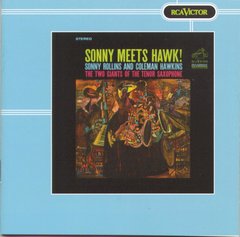 Исполнитель: Sonny Rollins

,

Coleman HawkinsНазвание альбома:

Sonny Meets Hawk!

Год выпуска:

1963/1999

Формат файлов:

mp3,320 kbps

Размер архива:

127,5 mb

Скачать с:

depositfiles

Throughout a career that spanned more than 40 years, Coleman Hawkins consistently maintained a progressive attitude, operating at or near the cutting edge of developments in jazz. If Hawk's versatility came in handy when he backed Abbey Lincoln during Max Roach's 1960 We Insist! Freedom Now Suite, he took on an assignment of challenging dimensions when in 1963 he cut an entire album with Sonny Rollins in the company of pianist Paul Bley, bassists Bob Cranshaw and Henry Grimes, and drummer Roy McCurdy. Coleman Hawkins and Sonny Rollins each virtually defined the tenor saxophone for his respective generation. To hear the two of them interacting freely is a deliciously exciting experience. Hawkins is able to cut loose like never before. Sometimes the two collide, locking horns and wrestling happily without holding back. For this reason one might detect just a whiff of Albert Ayler's good-natured punchiness, particularly in the basement of both horns; such energies were very much in the air during the first half of the 1960s. Rather than comparing this date with the albums Hawkins shared with Ben Webster (1957), Henry "Red" Allen (1957), Pee Wee Russell (1961), or Duke Ellington (1962), one might refer instead to Hawk's wild adventures in Brussels during 1962 (see Stash 538, Dali) or Rollins' recordings from around this time period, particularly his Impulse! East Broadway Run Down album of 1965. Check out how the Hawk interacts with Rollins' drawn-out high-pitched squeaking during the last minute of "Lover Man." On Sonny Meets Hawk!, possibly more than at any other point in his long professional evolution, Hawkins was able to attain heights of unfettered creativity that must have felt bracing, even exhilarating. He obviously relished the opportunity to improvise intuitively in the company of a tenor saxophonist every bit as accomplished, resourceful, and inventive as he was. ~ AllMusic Review by arwulf arwulf

01. Yesterdays
02. All The Things You Are
03. Summertime
04. Just Friends
05. Lover Man
06. At McKies'
07. You Are My Lucky Star
08. I Could Write a Book
09. There Will Never Be Another You

Personnel:
#1-6:
Sonny Rollins, Coleman Hawkins (tenor saxophone);
Paul Bley (piano);
Bob Cranshaw (1,2,5), Henry Grimes (bass);
Roy McCurdy (drums).

#7-9:
Tenor Sax Sonny Rollins
Cornet Don Cherry
Bass Henry Grimes
Drums Billy Higgins

Producer George Avakian

#1-6 recorded in NYC, at RCA-Victor Studio "B", on July 15 and 18, 1963
#7-9 (bonus tracks) recorded in NYC, February 20, 1963

Label:
1963 RCA Victor LPM-2712, LSP-2712
1999 RCA Victor CD
2002 Tombstone CD

скачать


Профиль
(10.04.10 - 13:39) - Кали:

Swing, спасибо, бесподобный дуэт!

P.S. Есть такая информация, что кто-то где-то назвал ЛУЧШИМ альбом 1996 года "Plus 3". Поискала - не нашла

P.P.S. Вышел альбом 2010 - называется Valse Hot

Профиль
(13.10.17 - 21:09) - Asmadey:

Присоединяюсь ко всем высказавшимся 7 лет назад, А Вас, dear Swing, Благодарю за реанимацию этой ссылки! Всего Вам самого джазового!

Профиль
(13.10.17 - 22:18) - russel:

Записей Сонни и Хока side by side, (если не ошибаюсь), всего две - Together At Newport 1963 и вот эта.

Эта пластинка, разумеется, много раз переиздавалась, но с таким 'оригинальным' довеском из февральской сессии с Доном Черри, всего дважды в 1999 и 2002 ))