Исполнителей:
2650
| Альбомов:
71419
| Видео:
977
---
Главная
»
Музыка
Sonny Phillips - Sure 'Nuff (1969) re-up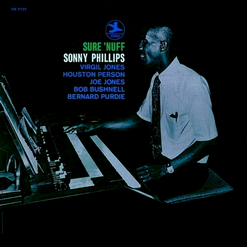 Исполнитель:

Sonny Phillips

Название альбома:

Sure 'Nuff

Год выпуска:

1970

Формат файлов:

FLAC

Размер архива:

204 MB

Скачать с:

turbobit/gigapeta/rapidgator

A1 Sure 'Nuff, Sure 'Nuff 6:50
A2 Be Yourself 4:30
A3 Oleo 7:40
B1 Mobile To Chicago 7:25
B2 The Other Blues 9:10

This LP was the first by organist Sonny Phillips on Prestige Records. Phillips is joined by Virgil Jones on trumpet, Houston Person on tenor sax, Joe "Boogaloo" Jones on guitar, Bob Bushnell on bass and Pretty Purdie on drums; quite a polished team. He presents four tunes of his own and the great Sonny Rollins number Oleo. It is a classic Soul Jazz album for its time. Production is by Bob Porter and recording by the masterful Rudy van Gelder.

The debut set as leader by organist Sonny Phillips is refreshingly free of the usual clichéd funky licks copped off Jimmy Smith and Brother Jack McDuff albums. Very early in his career, the Alabama-born, Chicago-based Phillips trained on piano under Ahmad Jamal, and Jamal's characteristic style remains imprinted on Phillips' loose, easy-flowing solos. (There's a little Ramsey Lewis in there as well, especially on the swinging soul-jazz title track.) This lighter touch and less blues-dependent style gives Sure 'Nuff an intriguing and unusual sound that keeps it from sounding like just another soul-jazz album. At times, Phillips sounds like he's been listening to jazz-rock pioneers like the Al Kooper-led Blood, Sweat & Tears or even the very early (pre-wimpy) Chicago, because tracks like "Be Yourself" and "The Other Blues" subtly integrate rock backbeats and rhythm guitar into jazz forms. Sure 'Nuff isn't an undiscovered masterpiece or anything, but it's considerably more interesting than the average soul-jazz album from the late '60s. ~ by Stewart Mason, AMG.

Personnel:

Sonny Phillips - Organ
Virgil Jones - Trumpet (#A1,A2,B1)
Houston Person - Tenor Saxophone
Joe "Boogaloo" Jones - Guitar
Bob Bushnell - Electric Bass
Bernard "Pretty" Purdie - Drums

Recorded 20th October, 1969 At Van Gelder Studio, Englewood Cliffs, New Jersey

turbobit скачать
gigapeta скачать
rapidgator скачать


Профиль
(14.07.20 - 08:17) - 007:

pula2012, пожалуйста!