Исполнителей:
2651
| Альбомов:
81524
| Видео:
1014
---
Главная
»
Музыка
Scott Hamilton & Duke Robillard - Swingin' Again (2021)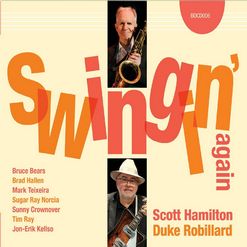 Исполнитель:

Scott Hamilton & Duke Robillard

Название альбома:

Swingin' Again

Год выпуска:

2021

Формат файлов:

MP3@320K/s

Размер архива:

123,6 MB

Скачать с:

turbobit/gigapeta/rapidgator/katfile

From Noted Jazz Producer, Author, Historian and Critic Scott Yanow:

"Duke Robillard originally became well-known as the founder and leader of Roomful Of Blues (1967-79), his playing with the Fabulous Thunderbirds, and his many projects in the blues world, but he has always had a love for swinging jazz. A friend of tenor-saxophonist Scott Hamilton since their early days, Robillard and Hamilton have often teamed up for memorable recordings. Their latest musical collaboration, Swingin' Again, is being released by the Blue Duchess label and is arguably their finest joint effort.

Swingin' Again has the two longtime associates joined by members of Duke Robillard's band (pianist Bruce Bears, bassist Brad Hallen, and drummer Mark Teixeira) plus several notable guests: trumpeter Jon-Erik Kellso, pianist Tim Ray, and singers Sugar Ray Norica and Sunny Crownover. The results are as exciting and enjoyable as one would expect from these talented and versatile musicians.

Starting with "I Never Knew," the program includes such classic standards as "I'm Putting All My Eggs In One Basket" (taken as a ballad by Sugar Eye Norica before it becomes a cooker), "All I Do Is Dream Of You," "Blue Lou," "Pennies From Heaven," and "You Can Depend On Me" (during which Norica recalls Jimmy Rushing). Also included is the obscure swinger "Never Mind," the medium-tempo blues "Steady Daddy" (sung winningly by Sunny Crownover), an infectious "Esquire Bounce," and "One O'Clock Jump."

Robillard's 1940s/'50s style swing guitar (inspired by Charlie Christian, Tiny Grimes, and other pacesetters of the era) is a perfect match for Hamilton's warm and distinctive tenor on the vintage material. Pianist Bears makes the most of his solo space, and fine support is supplied throughout by Hallen and Teixeira.

Duke Robillard and Scott Hamilton often listened to recordings and jammed together in their early days in Rhode Island. Hamilton moved to New York in the mid-1970s where his mastery of swinging jazz made headlines. He was the first young world-class jazz artist in years to play early straight ahead jazz rather than fusion, avant-garde or bebop, and his arrival on the scene virtually launched the comeback of small group swing. Hamilton has been featured on dozens of rewarding albums since then.

Duke Robillard's success with Roomful Of Blues, Bob Dylan, and on nearly 100 CDs made him a major name in the blues world but he was always eager to team up with his boyhood friend in swing settings. The guitarist was part of Hamilton's Blues, Bop And Ballads (1999), Across The Tracks (2007), and Remembering Billie (2012) albums, while the tenor is on Robillard's Swing (1986) and A Swinging Session (2008). Musical magic always occurs when they play together.

Swingin' Again is certainly a very easy set to enjoy. It will appeal to Duke Robillard's longtime fans (including those who loved his recordings with the late Jay Geils and Gerry Beaudoin in the New Guitar Summit) and listeners who treasure Scott Hamilton's playing."

From noted Jazz Producer, Author and Historian Bob Porter:

"The music here seems perfectly chosen. Swingin' Again seems to tell the whole story in it's title. We the listeners can only be grateful. Tell your friends."

01 I Never Knew (4:24)
02 I'm Putting All My Eggs in One Basket (5:04)
03 Never Mind (4:56)
04 Steady Daddy (3:03)
05 All I Do Is Dream of You (6:57)
06 Blue Lou (7:19)
07 Pennies from Heaven (6:05)
08 You Can Depend on Me (5:22)
09 Esquire Bounce (4:17)
10 One-O-Clock Jump (4:49)

Scott Hamilton - tenor sax
Bruce Bears - piano
Brad Hallen - bass
Mark Teixeira - drums

guests:
Jon-Erik Kellso - trumpet
Tim Ray - piano
Sugar Ray Norica, Sunny Crownover - vocals

Blue Duchess /Shining Stone Records

turbobit скачать
gigapeta скачать
rapidgator скачать
katfile скачать


Профиль
(25.10.21 - 20:46) - 007:

pula2012, пожалуйста!