Исполнителей:
2650
| Альбомов:
73293
| Видео:
977
---
Главная
»
Музыка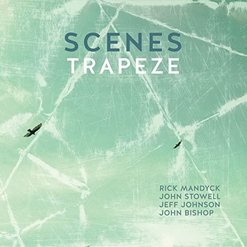 Исполнитель:

Scenes

Название альбома:

Trapeze

Год выпуска:

2020

Формат файлов:

MP3@320K/s

Размер архива:

132,8 MB

Скачать с:

turbobit/gigapeta/rapidgator/katfile

"...quietly stunning interplay...each musician establishes his identity firmly through melodic, conversational playing that is the epitome of modern, eclectic jazz.
All Music Guide

In 2000, master guitarist John Stowell met with the 8 year-old Seattle trio of drummer John Bishop, bassist Jeff Johnson & saxophonist Rick Mandyck to record the 2001 release "Scenes." Soon after, Mandyck retired his tenor for health reasons and the remaining trio carried on, recording five more albums and performing widely over these 20 years. Mandyck's participation on this session marks the first time he has entered the studio on tenor since that 2000 recording, creating a moving moment for the others as he brings along not only his singular musical voice, but five compositions to inspire the core trio, opening up new pathways of conversation. Whether traversing the tumbling landscape of Mandyck's "The Reckoning," or sliding into Claudine Francois' beautifully hypnotic title track, the eclectic quartet glides toward a known destination while discovering the course in the moment. There is history to guide their impulse, intuition to find their way. "Considerably absorbing...Dynamically astute and rhythmically sensitive, this is very satisfying music..." - Cadence Magazine.

01. All Day Pass
02. Anomaly
03. Highwaymen
04. The Bridge
05. Pause
06. House of Ra
07. The Reckoning
08. Trapeze

Rick Mandyck - tenor sax
John Stowell - guitars
Jeff Johnson - bass
John Bishop - drums

Recorded & mixed by Reed Ruddy at Studio X, Seattle, WA February 27, 2020

turbobit скачать
gigapeta скачать
rapidgator скачать
katfile скачать


Профиль
(20.09.20 - 18:17) - Шурка:

Спасибо, Агент! Провела сутки без музыки. Это просто ад.

Профиль
(21.09.20 - 07:36) - 007:

Шурка, пожалуйста!