Исполнителей:
2650
| Альбомов:
61357
| Видео:
969
---
Главная
»
Музыка
Samuel Eagles Spirit - Ask Seek Knock (2017)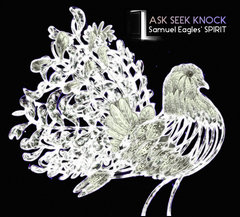 Исполнитель:

Samuel Eagles Spirit

Название альбома:

Ask Seek Knock

Год выпуска:

2017

Формат файлов:

mp3,320 kbps

Размер архива:

132,8 Mb

Скачать с:

depositfiles

"Ask Seek Knock" is the second album as a leader from London based alto saxophonist Samuel Eagles, and his first for Michael Janisch's Whirlwind Recordings.

Eagles made his leadership début in 2014 with "Next Beginning", a highly promising album released on the F-ire Presents imprint by a quartet featuring vibraphonist Ralph Wyld, bassist Fergus Ireland and drummer Eric Ford.

For this latest offering Eagles has expanded the group to a sextet under the collective name SPIRIT. Only Wyld remains from the previous recording and the new line up features Eagles' older brother Duncan on tenor sax with Sam Leak on piano, Max Luthert on bass and Dave Hamblett at the drums. Eagles studied at the Royal Academy of Music and also at Trinity College of Music. One of his former tutors/mentors, the great Jean Toussaint guests on tenor on two of the album's nine cuts.

The group name SPIRIT is particularly apposite. Eagles describes himself as having gone through something of a "spiritual enlightenment" following a relationship break up a couple of years ago. Informed by both Christian and Buddhist philosophies the album take its title from the following quote, reproduced on the album packaging;
"Ask and it will be given to you; seek and you will find; knock and the door will be opened to you. For everyone who asks receives; the one who seeks finds; and to the one who knocks, the door will be opened".

Musically the album is inspired by the spiritual jazz of John Coltrane and particularly the seminal "A Love Supreme" album, the influence of which Eagles readily acknowledges. A more contemporary source of inspiration is the American group NEXT Collective fronted by saxophonists Logan Richardson (alto) and Walter Smith III (tenor). British counterparts might include the Mancunian musicians Nat Birchall (tenor sax) and Matthew Halsall (trumpet)

The album features eight Eagles originals, the titles of the individual pieces reflecting the spiritual inspiration behind the music. The unusual instrumental line up with the two saxes, plus piano and vibes, encourages textural, harmonic and rhythmic invention. By way of example the lively contrapuntal opener "Eternity Within My Soul" develops out of the rhythmic interplay between Leak and Hamblett to embrace the lustrous shimmer of Wyld's vibes and the incisive sax interplay of the Eagles brothers.

"Changed, Changing Still" finds Eagles diving even deeper. With its Coltrane inspired theme this is even more obviously inspired by the 'spiritual jazz' of the 1960s. But Eagles is no copyist, this piece embraces a variety of moods and dynamics with Luthert soloing melodically, shadowed by Wyld's vibes. Later there's an intelligent solo from the initially thoughtful, but later increasingly impassioned, Eagles.

Toussaint guests on the ten minute "Hear His Voice", combining extremely effectively with Eagles and also soloing with authority and at length, as does Eagles in his turn. Leak also solos inventively - effectively cast in the 'McCoy Tyner' role his playing is exceptional throughout the album, both as soloist and accompanist.

Leak's piano also introduces "Hope In The Hills", one of the most melodic pieces on the album and one inspired by "a true story of benevolence involving a tour bus breakdown in Italy, where an uphill country-lane push led to camp-site owners who provided log cabin accommodation, food and van repairs. We were stranded for four days in the most perfect place possible". Pastoral and liltingly lyrical the piece includes delightful solos from Wyld and Eagles.

The Eagles brothers double up on the brooding, deeply spiritual, Coltrane inspired introduction to "The Twelve". The piece later takes on a more joyous feel thanks to its jaunty odd meter rhythms combined with quirkily inventive solos from Leak and Eagles.

"Dreams and Visions of The Son" is the second composition to feature Toussaint, and one which again taps into the wellspring of Coltrane for its inspiration. The piece moves through several distinct phases including a ruminative piano solo from Leak, followed a sensuous passage of intertwined saxophones presaging powerful solo statements from both Toussaint and Eagles. There's also something of a drum feature from Hamblett, whose firm, but deft and imaginative, playing throughout the album ensures that he's yet another musician who impresses with his excellent contribution to this recording.

The track "SPIRIT" offers contemporary rhythmic inventiveness alongside a mellifluous jazz sensibility with Samuel Eagles leading off the solos followed by brother Duncan, the latter is best known as the leader of Partikel, a group that also includes bassist Luthert. "SPIRIT" also features a passage of inventive interplay between Leak on piano and Wyld at the vibes.

The closing title track is a celebratory assertion of Eagles' faith, a funky outpouring of joy introduced by the twin sax attack of the Eagles brothers and paced by Leak's insistent piano vamp. Along the way we get to enjoy expansive solos from Wyld and both Samuel and Duncan Eagles.

In 2017, the fiftieth anniversary of John Coltrane's death, there has been a spate of Coltrane tributes but most of these have involved re-imaginings of Coltrane's own material. "Ask Seek Knock" is different. Instead Eagles channels the spirit of Coltrane to create something that is truly contemporary and very much his own.

Using Coltrane as a source of inspiration Eagles has delivered a collection of pieces that are richly inventive in terms of colour, texture, harmony and rhythm. But alongside the complexity there is also a strong melodic sense allied to a palpable sense of spirituality. All of the album personnel play superbly and engineer Tyler McDiarmid's mix (working in conjunction with producer Eagles) captures every nuance and subtlety of the music with pinpoint precision.

Initially I was prepared to dismiss this album as "just another Coltrane tribute" but, in truth, it delivers so much more.

01.Eternity Within My Soul (5:58)
02.Changed, Changing Still (6:59)
03.Hear His Voice (10:03)
04.Hope in the Hills (6:47)
05.The Twelve (9:21)
06.Dreams and Visions of the Son (6:59)
07.Spirit (6:53)
08.Ask, Seek, Knock (8:48)

Samuel Eagles: alto saxophone; Duncan Eagles: tenor saxophone; Jean Toussaint: tenor saxophone (3, 6,); Sam Leak: piano; Ralph Wyld: vibraphone; Max Luthert: double bass; Dave Hamblett: drums.

Whirlwind Recordings WR4709

скачать


Профиль
(15.01.18 - 02:09) - Шурка:

Очень даже неплохо. Спасибо!