Исполнителей:
2650
| Альбомов:
65616
| Видео:
970
---
Главная
»
Музыка
Russ David - Where There's Life (1960) re-up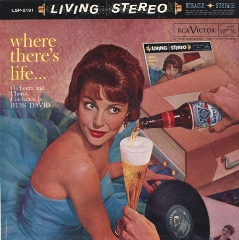 Исполнитель:

Russ David

Название альбома:

Where There's Life

Год выпуска:

1960

Формат файлов:

mp3 vbr-0

Размер архива:

70mb

Скачать с:

Turbobit

Russ David, a St. Louis bandleader and pianist who played everything from bawdy riverboats in the late 1920s to Lyndon B. Johnson's inaugural ball, died Jan. 2, 2003 from a stroke. He was 89.
David, who lived in St. Louis all his life, was an arranger, composer, musician, bandleader and radio host whose career spanned seven decades. He performed for St. Louis' high-society and for Presidents Eisenhower, Johnson, Ford and George H.W. Bush.
He was born in November 1913 and grew up poor in a home that had no bathroom or running water. At 15 he began playing piano for a black bandleader on a Mississippi riverboat, an experience that spawned a love for black jazz artists.
Decades later, David would produce the country's first integrated dance show, "St. Louis Hop," a local version of "American Bandstand."
His radio career began at KMOX. In 1936, he became musical director for KSD radio. In 1953, KSD launched David's most popular program: "Pevely Playhouse Party," a two-hour live radio show that earned him legions of fans among St. Louis women. In 1969, the show moved to WEW radio, where it ran ten more years.
He also wrote commercial jingles for such clients as Pontiac, American Airlines and Budweiser, earning 12 gold records for his work. Perhaps his best-known tune is "Where There's Life, There's Bud," which was so popular that it later became the basis for an LP.
And this is the LP: Finest easy listening music with a real nice cheesecake cover! ©

Label - RCA Victor

Russ David Orchestra

Tracks
01. Where There's Life (Traditional) 3.31
02. All Of My Life (Berlin) 2.21
03. Into Each Life Some Rain Must Fall (Roberts/Fisher) 2.29
04. Give Me The Simple Life (Ruby/Bloom) 2.50
05. If I Had My Life To Live Over (Jaffe/Tobias/Vincent) 1.56
06. Love The Life I'm Living (unknown) 2.41
07. Life Is Just A Bowl Of Cherries (Henderson/DeSylva/Brown) 2.06
08. These Will Be The Best Years Of Our Life (unknown) 2.38
09. There's A Lull In My Life (Cole) 2.02
10. The Best Things In Life Are Free (Henderson/DeSylva/Brown) 2.42
11. Life Is So Peculiar (VanHeusen/Burke) 2.04
12. Ah, Sweet Mystery Of Life (Young/Herbert) 2.00

Download



Профиль
(24.05.19 - 17:47) - lullaby:

Спасибо! Бальзам, сироп...Вкусно!