Исполнителей:
2650
| Альбомов:
65066
| Видео:
970
---
Главная
»
Музыка
Rossano Sportiello - Pastel: Solo Piano (2017)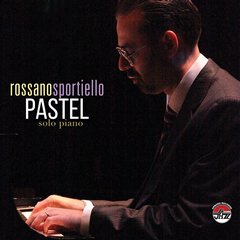 Исполнитель: Rossano SportielloНазвание альбома:

Pastel: Solo Piano

Год выпуска:

2017

Формат файлов:

MP3@320K/s

Размер архива:

151,2 MB

Скачать с:

depositfiles

01. All Through The Night
02. Arietta op. 21
03. Dancing In The Dark
04. Doctor Gradus ad Parnassum
05. Hymn
06. Waltz from "Masquerade"
07. Nobody Else But Me
08. Pastel
09. That's My Kick
10. A Time For Love
11. Dedicated to George Shearing
12. Voglia 'e Turna
13. When I Fall In Love

In the prior review, I referred to 'the prodigious piano artistry of Dick Hyman,' and that description can also be applied to Rossano Sportiello. On Pastel (Arbors 19454), which could be subtitled The Gentle Side of Rossano Sportiello, he has chosen an eclectic program, that includes selections from classical music, the Great American Songbook, jazz, and a couple of originals, to create 13 tracks of pure delight. He is particularly sagacious in pairing the likes of Grieg's 'Arietta op. 21' with 'Like Someone in Love,' and Debussy's 'Doctor Gradus ad Parnassum' with 'Lush Life.' Also special is his pairing of two gorgeous Johnny Mandel melodies, 'A Time for Love' and 'Close Enough for Love.' One of the distinctive aspects of Sportiello's playing is his delicate, sensitive touch. He treats the keyboard like an extension of his body, and gives it the same kind of care and respect that he does for his own being. His composition, 'Dedicated to George Shearing,' reflects his admiration for another jazz pianist who incorporated classical influences into his jazz excursions. Sportiello is among the front rank of jazz pianists, and this album gives ample proof of why that is the reality.

скачать


Профиль
(12.07.17 - 19:10) - 007:

Pepita, пожалуйста.