Исполнителей:
2650
| Альбомов:
73891
| Видео:
977
---
Главная
»
Музыка
Ron Carter - Foursight - Stockholm Vol. 2 (2020)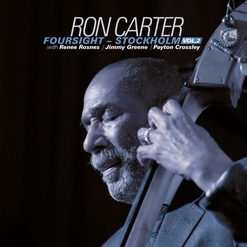 Исполнитель:

Ron Carter

Название альбома:

Foursight - Stockholm Vol. 2

Год выпуска:

2020

Формат файлов:

MP3@320K/s

Размер архива:

148 MB

Скачать с:

turbobit/gigapeta/rapidgator/katfile

NEA Jazz Master Ron Carter with Renee Rosnes, Jimmy Greene & Payton Crossley. Vol.2 completes a great night in Sweden!
Ron Carter, Renee Rosnes, Jimmy Green and Payton Crossley finish the music magic we experienced on Foursight: Stockholm, Vol. 1 "Live" at the Stockholm jazz club "Fasching"!
"What a mood, what an atmosphere! It's hard to believe that this actually took place on November 17, 2018! We listen to a jazz concert that sounds like it was recorded in the last millennium at Minton s Playhouse in New York, or perhaps in Birdland or Village Vanguard: euphoric, unique, unrepeatable, because on evenings like this everything simply fits together, the signs are favorable, the musicians really enjoy playing and the audience pushes them constantly to the absolute limit. It is not even possible to predict when such will even be possible again in the future...
If you want to decipher the secret of this legend, the two audio documents from the Swedish jazz club provide valuable insights. Following "Stockholm Vol. 1" (IOR CD77139-2), the second part "Stockholm Vol. 22 is being released. A late work full of maturity, natural authority of numerous surprises without subsequent corrections or edits. Carter and the Foursight Quartet operate at a different intensity level compared to their predecessor volume. "595" and "Mr. Bow Tie" (and later the reprise), two shimmering compositions by the clever gentleman, obtain a feather-light, elegant tang here. With "Flamenco Sketches" by Carter's former partner, friend and "boss" Miles Davis, he transposes one of his best-known songs into his vocabulary. Then the passionate motorist sends "You Are My Sunshine" onto the music highway with the help of Jimmy Green and dims the light in a fascinating way along with Renee Rosnes in Miles' favorite piece "My Funny Valentine". Each song is a tribute without specific addressees, a message to many friends, wives and men, strangers, all those who are no longer on the earthly stage, "who left the concert early..." (Excerpt from the liner notes by Reinhard Köchl May 2019)

01 595 07:10
02 Mr. Bow Tie 11:55
03 Flamenco Sketches 06:11
04 Seven Steps to Heaven 06:55
05 You Are My Sunshine 06:32
06 Mr. Bow Tie, Reprise 03:00
07 My Funny Valentine 10:19
08 You and the Night and the Music 10:08

Ron Carter, double bass
Renee Rosnes, piano
Jimmy Greene, tenor saxophone
Payton Crossley, drums

turbobit скачать
gigapeta скачать
rapidgator скачать
katfile скачать


Профиль
(29.10.20 - 00:30) - 007:

pula2012, пожалуйста!