Исполнителей:
2650
| Альбомов:
64834
| Видео:
970
---
Главная
»
Музыка
Richard Galliano - The Tokyo Concert (Live) (2019)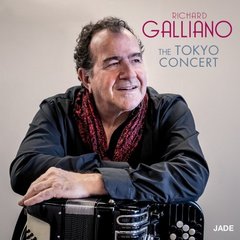 Исполнитель:

Richard Galliano

Название альбома:

The Tokyo Concert (Live)

Год выпуска:

2019

Формат файлов:

mp3,320 kbps

Размер архива:

131 Mb

Скачать с:

turbobit

A rare and fabulous tête-à-tête between the accordion and its maestro

Richard Galliano is the uncontested master of jazz accordion worldwide. The inventor of "new musette" – a mix between jazz and popular music – has been feeding off French chanson and musette, American blues music, and Brazilian forro. In May 2018, the accordionist played three concerts in Tokyo, alone on stage with his precious Victoria, the accordion that was gifted to him by his grandmother on his fourteenth birthday, upon the advice of his father. Three nights whose intensity was such that it called for a live album, featuring a repertoire cherished by Richard Galliano that combined jazz and classical music. Valuing melody above everything else, he takes a thousand kinds of liberty: from Debussy's Clair de lune on the barrel organ to a medley tribute to Michel Legrand, via a Mediterranean tango for his friend Claude Nougaro but also works by Chopin and Bach, and a nod to Brazilian music and the gifted accordion players born in this country. Richard Galliano offers us a lesson in improvisation and freedom. To celebrate his career's fiftieth anniversary, the virtuoso promises to keep the freshness of his latest album. And what could be more luxurious than the Saint-Germain-des-Prés church, which recently unveiled its beautiful décor, to host a concert both intimate and grandiose?

1. Parisian divertimento (Live) 09:57
2. Clair de Lune (Suite Bergamasque) (Live) 04:10
3. La valse à Margaux (Live) 05:07
4. Soleil - Smile (Live) 04:03
5. Hommage à Michel Legrand (The Windmills of Your Mind / Once Upon a Summertime / You Must Believe in Spring) (Live) 06:16
6. Sertão (Live) 01:52
7. Odeon (Live) 01:33
8. Folies Musette (Live) 04:25
9. Introducción (Introduction sous forme d'improvisation à l'œuvre "Andaluza" d'Enrique Granados) (Live) 00:57
10. Andaluza (Danse espagnole No. 5) (Live) 04:03
11. Tango pour Claude (Live) 05:20
12. Aria (Live) 04:00
13. Waltz in C-Sharp Minor, Op. 64 No.2 (Live) 03:21

Richard Galliano, accordion

Label: Milan Records

скачать


Профиль
(17.04.19 - 13:49) - Pepita:

Vickers, garson, пожалуйста!