Исполнителей:
2650
| Альбомов:
61345
| Видео:
969
---
Главная
»
Музыка
Ragan Whiteside - Class Axe (2007)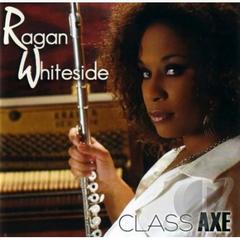 Исполнитель:

Ragan Whiteside

Название альбома:

Class Axe

Год выпуска:

2007

Формат файлов:

MP3@320K/s

Размер архива:

114,9 MB

Скачать с:

depositfiles

1. Introduction
2. Funktuation
3. Gonna Fly
4. So Glad
5. Always There For Me (Interlude)
6. In Love
7. How Do You Know
8. Options
9. I've Been Thinking (Interlude)
10. 3 A.M.
11. Break Me Down
12. Call Me
13. Meu Amigo Meu Amante
14. Funktuation-Reprise

"...let elegance, also dexterity be recognized; the integrity of this fascinating musical composition should be heard on all smooth jazz and classic soul airwaves world wide; Ragan Whiteside is elegance and one to watch out for in the music industry… let the 'flutress' be heard."~Gary Tann, ''Harlem after Midnite'', Whcr 90.3 Fm, Ny

"She not only has The silkiest and sweetest flute tone in the business, but her tenacity and desire to be recognized in Urban, New-Soul AND smooth jazz genres makes her a musical force to be reckoned with!! Mark my words!"

- Bob Baldwin – Grammy-Nominated Arranger

From her clever introduction (a quick sojourn into a Felix Mendelssohn opus, interrupted by her chuckle and the word "Psyche") to the first bars of "Funktuation" (Need I define that for you?), you know Class Axe is going to be something special. And it is. Mt. Vernon, Ny's Ragan Whiteside is someone special. You can just tell. She's totally connected to the hip, sexy side of the jazz flute (she switched from Classical some time back) for this awesome collection of Smooth Jazz, Urban, Neo-Soul songs that will totally convince you this woman has a huge future ahead of her. It's hard to believe this is her debut album. The performances… and I'm talking her playing, her singing, her writing… are mature and confident. She's got the masterful Bob Baldwin and Dennis Johnson producing this disc, which certainly adds a magnitude of strength to the project, but they'll be the first to tell you that Ragan rises to the occasion beautifully with both her playing and her singing. This is an album that, as Bob Baldwin puts it, clearly shows that "her breakthrough on this instrument can be historical for the genre. She's smooth, sexy, and radio-friendly." You've really got to hear this one. From the aforementioned "Funktuation" to the delicious Bob Baldwin-penned Latin Samba "Meu Amigo, Meu Amante," this is an album that gets my highest recommendation. I promise you, this is only the beginning of the Ragan Whiteside story! She is totally a class act with her Class Axe! ~Scott O'Brien

скачать


Профиль
(19.05.17 - 23:46) - Asmadey:

играет простенько, но душевно. К сожалению, джаза здесь мало (если не сказать, что его вообще нет),но послушать приятно. Спасибо, Dear 007! Всего Вам самого джазового!