Исполнителей:
2650
| Альбомов:
71419
| Видео:
977
---
Главная
»
Музыка
Peter Asplund Quartet - Asplund Meets Bernstein (2010)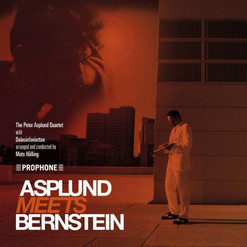 Исполнитель:

Peter Asplund Quartet

Название альбома:

Asplund Meets Bernstein

Год выпуска:

2010

Формат файлов:

MP3@320K/s

Размер архива:

146,1 MB

Скачать с:

turbobit/gigapeta/rapidgator

1 A Simple Song 08:13
2 Glitter And Be Gay 08:56
3 It´s Love 06:13
4 Some Other Time 08:31
5 It Must Be So/Candides Lament 05:41
6 I Feel Pretty 10:49
7 Somewhere 06:31
8 Tonight 07:27
9 Neverland 08:01

After two CD albums with the Peter Asplund Quartet: "Lochiel's Warning" (PCD 071) from 2004 and "As Knights Concur" (PCD 093) from 2008, in which we combined our own compositions with American standards, it is now time for an album with a specific theme and it feels quite natural to have chosen as that theme the music of Leonard Bernstein. The challenge to us as a jazz group is to succeed in playing Bernstein's music in our own way and thus even developing it for improvisation. It is now time for me to present my quartet, already a strongly knit unit, in a new light, this time together with a larger ensemble. For the purpose of interpreting Bernstein's music we chose to collaborate with a symphonic orchestra.To discover the essence in Bernstein's music, bring out the jazz oriented aspects, illuminate the special characteristics of the quartet and combine this in the most effective way with the symphony players, was the great challenge facing the arranger.

The choice of arranger went to my good friend and trumpeter colleague, Mats Hålling.Dalasinfoniettan is the symphony orchestra of the Dalarna (Dalecarlia) region of Sweden and which makes up a section of the Musik i Dalarna regional organisation. It is a full-time professional ensemble consisting of 28 musicians and was formed in 1988.The reason that Dalasinfoniettan was the right orchestra with which to collaborate is best described by a quotation from out of the official presentation of the orchestra:"Our ambition is to be a many-sided, flexible and exciting orchestra with a broad program both in relation to the classical repertoire and in collaboration with musicians from other genres."

Composed By – Leonard Bernstein

Conductor – Mats Hålling

Bass – Hans Andersson
Drums – Johan Löfcrantz Ramsay
Piano – Jacob Karlzon
Trumpet, Flugelhorn – Peter Asplund

Recorded 13-15 January, 2010 at Kristinehallen, Falun and 4 February, 2010 at SAMI, Stockholm.

turbobit скачать
gigapeta скачать
rapidgator скачать


Профиль
(10.07.20 - 14:25) - 007:

pula2012, пожалуйста!