Исполнителей:
2650
| Альбомов:
73891
| Видео:
977
---
Главная
»
Музыка
The Pete Siers Trio - Krupa (2013)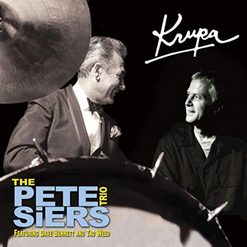 Исполнитель:

The Pete Siers Trio

Название альбома:

Krupa

Год выпуска:

2013

Формат файлов:

MP3@320K/s

Размер архива:

183,4 MB

Скачать с:

turbobit/gigapeta/rapidgator/katfile

1 Wire Brush Stomp 4:16
2 Dark Eyes 3:33
3 Cocktails For Two 3:41
4 Sing Sing Sing 10:12
5 The Man I Love 8:25
6 Drum Boogie 5:00
7 Don't Be That Way 4:50
8 Stardust 3:43
9 Number Ten Richie Drive 2:51
10 Stompin' At The Savoy 6:32
11 Back Home In Indiana 5:02
12 Perdido 6:44
13 Limehouse Blues 3:10
14 Fine's Idea 2:42
15 St. Louis Blues 7:20

The Pete Siers Trio plays the music of the Gene Krupa Trio

Krupa is loaded with first class jazz as drummer and leader, Pete Siers, reflects upon and honors one of the greatest drummers of all time - Gene Krupa. The repertoire found on this recording highlights Gene Krupa's lesser-known trio work with saxophonist Charlie Ventura and pianist Teddy Napoleon. When Krupa, with Benny Goodman, made their first recordings over 70 years ago, the music was called "The Chamber Music of Jazz," a change from the heavily-arranged big band records of the day. Pete's choice to acknowledge and respect this music with clarinetist, Dave Bennett and pianist, Tad Weed is inspired as they revel in that free-wheeling spirit of those early string bass-less trios.

Pete Siers' solo work here is outstanding, ranging across the drum kit, from the tom-toms of Sing, Sing, Sing to the metallic tinkling on Wire Brush Stomp (an I Got Rhythm variation). The former is from the Goodman discography, the latter from Krupa's. Dave's playing is amazingly facile throughout. If you think you've hear Stardust played every possible way, check out Bennett's version here. Tad's solos and accompaniment are super; try Indiana for one fine example. In addition to the Goodman and Krupa tunes, there are also some Ellington and W. C. Handy, just to remind us of our national music treasure chest.

As with the original trios, some portions of the selections are arranged. But throughout, the musicians maintain the spirit of the early trios without direct imitation. This is wonderful music, inspired by some of the greats of the past and played by three of the best musicians on today's jazz scene.

--Hazen Schumacher

Pete Siers, drums
Dave Bennett, clarinet
Tad Weed, piano

turbobit скачать
gigapeta скачать
rapidgator скачать
katfile скачать >


Профиль
(26.10.20 - 21:50) - Asmadey:

Спасибо, dear 007! Похож на Крупа, но, только мне кажется,немного утрировано. А так классно! Спасибо ещё раз и всего Вам самого джазового!

Профиль
(30.10.20 - 12:30) - 007:

Asmadey, пожалуйста!