Исполнителей:
2650
| Альбомов:
77719
| Видео:
989
---
Главная
»
Музыка
Per Aage Brandt, Karsten Vogel - Cry! (2015)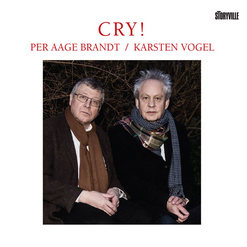 Исполнитель:

Per Aage Brandt, Karsten Vogel

Название альбома:

Cry!

Год выпуска:

2017

Формат файлов:

MP3@320K/s

Размер архива:

114,5 MB

Скачать с:

turbobit/gigapeta/rapidgator

01. Run 06:45
02. Wild Nephew 04:55
03. Cry 05:48
04. Dream No. 3 04:05
05. Four Four Four 05:02
06. Help 07:08
07. Outside Thule 04:08
08. Quiet 04:14
09. Not So Quite 03:46
10. My Funny Valentine 02:16

The ten tracks we find on Cry! represent the original form of Danish avant-garde jazz the way it was developed in the beginning of the 1960's. Moreover, they fill a, till now, scandalous hole in the registration of Danish jazz: Per Aage Brandt's piano music in full vigor. In the late 1950's, Karsten Vogel joined Per Aage Brandt's quintet, which in the provinces of Bagsvaerd and Soborg became a part of Copenhagen's fertile jazz environment with their modified and updated be-bop. The Brother Vogel's jazz quartet and later sextet developed their music and became a part of the leading avant-garde, which found a growth centre in Copenhagen and Aahus in spite of being found nowhere else but in New York at the time. In 1963 they won the competition for "Best Danish Jazz Orchestra" and in the years that followed they were often herd in both television and radio. Per Aage Brandt had a highly praised career with his Trio in the side, and they recorded an hour of music with Albert Ayler among other things. Recordings which were broadcast and then deleted! In the second half of the 1960's Karesten Vogel dedicated himself to this work with Burnin' Red Ivanhoe and was a central part of John Tchicai's Cadentia Nova Danica ensemble. Per Aage Brandt slowly became absorbed in poetry and philosophy of language - areas in which he has made a name for himself in many parts of the world and where he has earned professorships in California and Ohio among other places. For lack of time, the collaboration between the two pioneers unfortunately could not continue. Shortly after the millennium, it was nevertheless resumed, and together they have played concerts in both Villeneuve sur Yonne near Paris, where Per Aage Brandt now lives, and in Copenhagen. On Vogel's initiative, they took up playing again and recorded for hours among fellow friends and musicians. The outcome is 50 minutes of ecstatic jazz that can be heard here.

Personnel: Per Aage Brandt (piano); Karsten Vogel (alto saxophone, tenor saxophone); Klaus Menzer (drums).

Recording information: Studio Beaudemont, Villeneuve Sur Yonne, France (2015-10-23&2015-10-24&2015)

turbobit скачать
gigapeta скачать
rapidgator скачать


Профиль
(28.06.20 - 00:47) - Шурка:

Спасибо, Агент! Датчане жгут Karsten Vogel заинтересовал, но на рутреккере он в арт-роковом разделе.
Послушаю,пожалуй, его альбом с Dr. Lakshminarayana Subramaniam.

Профиль
(10.07.20 - 00:02) - 007:

Шурка, пожалуйста!