Исполнителей:
2650
| Альбомов:
71464
| Видео:
977
---
Главная
»
Музыка
Pat Metheny - From This Place (2020)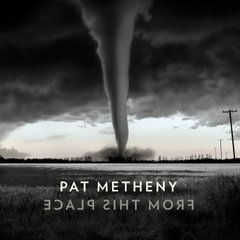 Исполнитель: Pat MethenyНазвание альбома:

From This Place

Год выпуска:

2020

Формат файлов:

MP3@320K/s

Размер архива:

173,3 MB

Скачать с:

turbobit/gigapeta

1. America Undefined (13:22)
2. Wide and Far (8:27)
3. You Are (6:13)
4. Same River (6:43)
5. Pathmaker (8:20)
6. The Past in Us (6:24)
7. Everything Explained (6:52)
8. From This Place (4:40)
9. Sixty-Six (9:39)
10. Love May Take Awhile (5:57)

It's been a full six years since Pat Metheny last released a studio recording. This, despite the guitarist who has become, in a career now in the midst of its fifth decade, one of the most famous and influential jazz guitarists of his (or, some would argue, any) generation, reportedly having enough material in the can for five or six releases.
Nor is it as if he hasn't kept busy. The guitarist, for whom live performance has always been like life's blood itself, toured for up to ten months a year, early in his career, with his flagship Pat Metheny Group. Giving his band mates a couple of months off, Metheny would then hit the road again for a couple months with one of his side projects, like the trio with bassist Charlie Haden and drummer Billy Higgins responsible for 1984's Rejoicing, one of two final recordings released, that year, for his first label as a leader, Munich's ECM Records.

Life changes (marriage, children, aging — he turned 65 in August, 2019) have reduced some of Metheny's time spent on the road in more recent years. Still, he continues to clock up plenty of miles touring with his Side Eye project (featuring a revolving door of younger, up-and-coming musicians), but, even more significantly, with the extraordinary core unit behind From This Place that's been together for the past few years: pianist Gwilym Simcock; bassist Linda May Han Oh; and Antonio Sanchez, who's played on more Metheny projects than any other drummer since first joining Pat Metheny Group for Speaking of Now (Warner Bros., 2002).

Metheny's current quartet has criss-crossed the globe several times in the past several years, focusing exclusively on extant material spanning the guitarist's nearly 45-year career as leader. This represents a significant change from prior groups, dedicated to playing new music from their (then-) latest recording, in addition to some selectively chosen earlier compositions.

…After touring a repertoire spanning his entire career, when it came to recording From This Place, Metheny, Simcock, Oh and Sánchez entered the studio to play, with no prior rehearsal, sixteen newly minted Metheny compositions, in some cases on which he'd "gathered some arranging input from Gwilym and Linda to take advantage of their particular gifts within the context of what I imagined those pieces might be suggesting." Adding Sanchez's intrinsic spontaneity, Metheny was confident "that whatever I gave Antonio would be reinvented on the spot by way of his unsurpassed musicality…(he also has the unique ability to make things happen in a recording studio that puts him in the elite group of players who can genuinely see the studio itself as an extension of their instrument)."

The result is a most welcome and ambitious release that, in addition to satisfying existing Metheny's fans' six-year jones for new music, since the release of Kin (<—>) (Nonesuch, 2014), shines yet another most focused spotlight on the guitarist as a composer, performer and musical conceptualist.

Metheny's conceptual acumen continued to reveal itself during the From This Place sessions. As the quartet was in the studio recording Metheny's new book of compositions (ten ultimately ending up on the 77-minute From This Place), the guitarist began to hear a need for "orchestration, expansion and color." Referencing some of the classic CTI recordings from the late '60s/early '70s, which have meant a great deal to the guitarist, where orchestrations were similarly layered over the improvised music after the fact, the guitarist enlisted two contemporary masters of arrangement in Alan Broadbent, and Gil Goldstein, a past Metheny collaborator, most notably on the guitarist's 1992 Grammy Award-winning classic, Secret Story (Geffen, expanded reissue by Nonesuch, 2007).

From This Place's use of The Hollywood Studio Symphony, conducted by Joel McNeely, certainly bears comparison to Secret Story's similar reliance on a proper orchestra rather than the synths and/or Orchestrion that have augmented Metheny's music, in some cases for decades. An album that reflects an even more mature, sophisticated and evolved musician, with nearly three more decades of experience under his belt, it also acts as more of a career consolidation, bringing more of the Metheny that longtime fans have known and loved back into focus while, at the same time, expanding upon his use of orchestration in what he describes as …"by far the most extensive one and, I would offer, the most organic."

From This Place is also likely to satisfy those Metheny fans who've felt that his music has become, more often than not following his final studio date with Pat Metheny Group, The Way Up , increasingly impenetrable in its complexities. This, versus his earlier compositional approach (alone and together with Metheny Group pianist/keyboardist/co-composer, Lyle Mays), where the writing's irrefutable challenges were masked in a more eminently accessible musical veneer.

That's not to suggest that From This Place is any less sophisticated, only that the writing presents itself as being more readily apprehensible, despite every member of the group, including guest spots by percussionist Luis Conte, Metheny Group alum/harmonicist Gregoire Maret, and singer MeShell NdegeOcello (with whom Metheny collaborated in a stunning, revelatory after midnight performance during his By Invitation series of multiple shows and manifold musical contexts at the 2005 Festival International de Jazz de Montréal) and the Hollywood Symphony Orchestra, conducted by Joel McNeely, performing at the absolute top of their game. — AllAboutJazz

turbobit скачать
gigapeta скачать


Профиль
(22.02.20 - 14:14) - 007:

BarensTone, пожалуйста!

Профиль
(24.02.20 - 21:19) - Spike:

Guitars – Pat Metheny
Vocals – Meshell Ndegeocello
Piano – Gwilym Simcock
Bass – Linda May Han Oh
Drums – Antonio Sanchez
Harmonica – Gregoire Maret
Percussion – Luis Conte
Conductor – Joel McNeely
Orchestra – Hollywood Studio Symphony