Исполнителей:
2650
| Альбомов:
73891
| Видео:
977
---
Главная
»
Музыка
Noah Bless - New York Strong: Latin Jazz! (2018)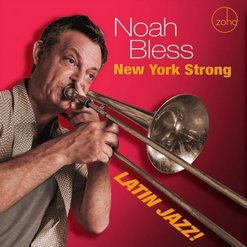 Исполнитель:

Noah Bless

Название альбома:

New York Strong: Latin Jazz!

Год выпуска:

2020

Формат файлов:

MP3@320K/s

Размер архива:

95,1 MB

Скачать с:

turbobit/gigapeta/rapidgator/katfile

1. Chasing Normal (Noah Bless) 5:36
2. Ganga (Rudy Calzado) 4:32
3. Canto De Ossanha Baden Powel 5:42
4. 49th Street (Bill Mobley) 4:15
5. Ligia (Antonio Carlos Jobim) 4:12
6. The Key Noah (Noah Bless) 5:36
7. Fire and Rain (James Taylor) 5:04
8. Sunny Ray (Ray Santos) 5:01

''A 30-year veteran of New York's rich Latin jazz scene, trombonist-composer Noah Bless has immersed himself in Afro-Cuban music, soaking up mambo and rhumba while getting the clave ingrained into his DNA. A graduate of internationally renowned Cincinnati Conservatory, with a master's degree in jazz from the Manhattan School of Music, Bless didn't intend on pursuing this Latin jazz path when he arrived in the Big Apple in 1990. Indeed, the Thad Jones-Mel Lewis Orchestra was more in his personal wheelhouse. But as all working musicians know, especially those fresh arrivals to the city looking for a means to pay their rent, you go where the gigs are. ''There were a ton of clubs in New York at that time, and if you were a brass player and you could read music, you could do Latin gigs.''

Bless found himself playing for dancers at the fabled Club Broadway on 96th & Broadway. ''At that time, I was living on the Upper West Side and I used to walk to that gig,'' he recalled. He persisted on the salsa scene and by 1992 was touring the world with Afro-Cuban jazz pioneer Mario Bauza. He subsequently put in time with salsa stars Celia Cruz, Oscar D'Leon and La India, Latin jazz innovator Eddie Palmieri, arranger-conductor Ray Santos, the Spanish Harlem Orchestra and Arturo O'Farrill's Afro Latin Jazz Orchestra.''

Noah Bless - trombone
Mike Eckroth - piano
Boriz Koslov - bass
Pablo Bencid - drums
Luisito Quintero - percussion
Alejandro Aviles - flute (4, 6)

Recorded at Sear Sound Studios, New York, NY, April 20th, 2018.

turbobit скачать
gigapeta скачать
rapidgator скачать
katfile скачать


Профиль
(2.11.20 - 16:24) - 007:

pula2012, пожалуйста!