Исполнителей:
2650
| Альбомов:
62567
| Видео:
970
---
Главная
»
Музыка
Nick Vayenas - Flow Motion (2017)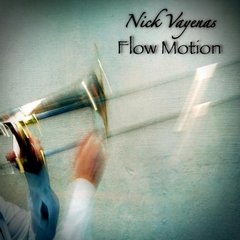 Исполнитель:

Nick Vayenas

Название альбома:

Flow Motion

Год выпуска:

2017

Формат файлов:

MP3@320K/s

Размер архива:

106,6 MB

Скачать с:

depositfiles,turbobit

01.Flow Motion
02.Premonition
03.Red Stripe
04.Velvet Mystery
05.Anarchy
06.The Final Frontier
07.Sunny Side Up
08.Change

"A young composer finding a new sound all his own." - Jazz Times Magazine

Trombonist, trumpeter, composer, and educator Nick Vayenas has been a mainstay on the music scene for the past 15 years. Based in New York City, Nick has worked in a variety of settings both as a sideman and leader. In 2009, Vayenas released his acclaimed debut album, 'Synesthesia', on drummer Kendrick Scott's World Culture Music label. "A well conceived album and more than casually ambitious", wrote Nate Chinen of the New York Times. The album featured some of the finest young musicians on the jazz scene today (Kendrick Scott - drums, Aaron Parks - piano, Matt Brewer - bass, Gretchen Parlato - voice, and Patrick Cornelius - alto sax). In 2012, he returned with his sophomore release, 'Nick Vayenas', on Whirlwind Recordings. The recording displayed his astonishing breadth of skills on trombone, trumpet, and vocals as well as his unique composing and arranging style. "One of the most impressive of Whirlwind issues, showcasing a multi-talented individual likely to appeal to a wide constituency of jazz fans, 4 stars", said Jazz Journal.
Nick's latest album, 'Flow Motion' features a set of all original compositions written by Nick and performed by a stellar line-up of musicians. Joining Nick is his fellow Thelonious Monk Institute class member Dayna Stephens on tenor sax, Cornelius on alto, pianist Glenn Zaleski, bassist Peter Slavov, and drummer Colin Stranahan. The band performs brilliantly, providing expressive interpretations of Nicks melodic modern jazz compositions.

Nick Vayenas - Trombone
Glenn Zaleski - Piano
Peter Slavov - Bass
Colin Stranahan - Drums
Dayna Stephens - Sax
Patrick Cornelius - Sax

скачать c depositfiles
скачать c turbobit


Профиль
(13.06.18 - 07:55) - crossmen:

007, Спасибо за Полное Творчество Тромбониста за все Релизы + Nick Vayenas - Synesthesia (2007), Nick Vayenas - Synesthesia (2007)

Профиль
(13.06.18 - 18:18) - 007:

crossmen, пожалуйста!