Исполнителей:
2650
| Альбомов:
70080
| Видео:
976
---
Главная
»
Музыка
Naama Gheber - Dearly Beloved (2020)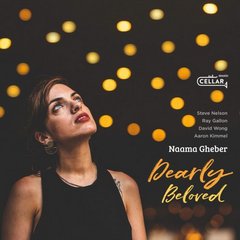 Исполнитель:

Naama Gheber

Название альбома:

Dearly Beloved

Год выпуска:

2020

Формат файлов:

MP3@320K/s

Размер архива:

137,3 MB

Скачать с:

turbobit/gigapeta

01. Dearly Beloved (3:34)
02. So in Love (5:00)
03. S Wonderful (2:37)
04. Since I Fell for You (4:19)
05. I Can't Give You Anything but Love (5:01)
06. Get out of Town (4:02)
07. This Time the Dream's on Me (4:56)
08. You Stepped out of a Dream (3:56)
09. What's New (5:02)
10. Just Squeeze Me (4:18)
11. Sometimes I'm Happy (3:49)
12. Good Night My Love (4:08)
13. Exactly Like You (3:23)
14. Good Night My Love (Layla Tov) (4:08)

Conceiving her debut album, vocalist Naama Gheber summoned inspiration from an intimate life on the New York bandstand. Among tapering red curtains, maple bar tops, snares and brushes, the Be'er Sheva-born artist nightly explored selections from the canon of American standards with her fellow artists -- music that would become the centerpiece for Dearly Beloved. As tracks materialized one by one, she observed a lyrical theme emerging, one that presents triumphs, challenges and ultimately changes within the human condition reflected in relationships with others.

From the outset, Gheber sought to interpret the album's repertoire in a unique, compelling way despite each tune's storied recording history. She sat at the piano with stacks of handwritten charts, and turned to her trio mates for input. The resulting 12 tracks and two single releases spotlight Gheber's lush, at times ethereal vocals experimenting with harmonic concepts, varied time feel and metric modulation amid resonating contributions from pianist Ray Gallon -- who contributed arrangements for Dearly Beloved -- bassist David Wong, drummer Aaron Kimmel and special guest, vibraphone master Steve Nelson.

Naama Gheber, vocals
Steve Nelson, vibraphone
Ray Gallon, piano
David Wong, double bass
Aaron Kimmel, drums
David Wong, bass

turbobit скачать
gigapeta скачать


Профиль
(10.04.20 - 20:10) - BarensTone:

Спасибо Вам за труд, но пение ужасное.
Удалил пластинку после прослушивания(

Профиль
(17.04.20 - 23:54) - 007:

BarensTone, пожалуйста!