Исполнителей:
2650
| Альбомов:
77044
| Видео:
989
---
Главная
»
Музыка
Michel Portal - MP85 (2020)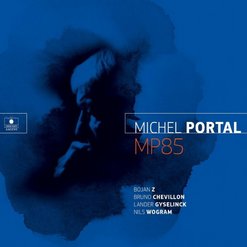 Исполнитель: Michel PortalНазвание альбома:

MP85

Год выпуска:

2021

Формат файлов:

MP3@320K/s

Размер архива:

118,1 MB

Скачать с:

turbobit/gigapeta/rapidgator/katfile

1. African Wind (4:15)
2. Full Half Moon (6:31)
3. Armenia (4:13)
4. Jazzoulie (4:58)
5. Mino-Miro (5:19)
6. Split the Difference (4:06)
7. Desertown (5:21)
8. No Hay (5:14)
9. Mister Pharmacy (5:43)
10. Euskal Kantua (4:14)

An impressive album from start to finish, and totally unexpected after a little over ten years of silence by this excellent saxophonist with an illustrious career. But it is important to know how this new quintet was born ...

This happened in 2018, as part of the Europa Jazz, this festival where we often found the same guests from year to year, which made it possible to forge strong links between the artists and to offer in 2018 to Michel Portal a "Carte Blanche".

On MP85 the arrangements are particularly neat, the rhythmic bewitching and the keyboards remarkably festive. Trombonist Nils Wogram is at his peak and the drummer just totally amazing! All the musicians on this opus offer Michel Portal, brighter than ever, a soft cushion favoring his lunar modes of expression.

It is this kind of albums that we adore, those which are not simple "calling cards" for an artist in need of festivals and concerts, because here it is really a magnificent creation, which makes of these compositions rare pieces. Even more so, while in recent years we have received a large number of particularly boring European jazz CDs, MP85 is seen by our critical eyes as "a model of the genre"! No one can say if this album is (or will be) Michel Portal's last, but in any case, the editors of Bayou Blue Radio and Paris Move rank it at the top of the pile of "Indispensables". An album that we will certainly talk about for a long time to come.

Michel Portal – Bass & B-Flat clarinets, Soprano saxophone
Bojan Z – Piano, Keyboards
Bruno Chevillon – Double bass
Nils Wogram – Trombone
Lander Gyselinck – Drums

Recorded at the Gil Evans Studio, June 26-29, 2020

turbobit скачать
gigapeta скачать
rapidgator скачать
katfile скачать


Профиль
(6.03.21 - 04:40) - Шурка:

Новый альбом после 10-летнего перерыва... Спасибо, Агент!

Профиль
(6.03.21 - 11:05) - 007:

Шурка, пожалуйста!