Исполнителей:
2652
| Альбомов:
95612
| Видео:
1061
---
Главная
»
Музыка
Michael Wolff Trio - jazz, JAZZ, jazz (2001)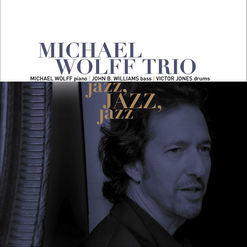 Исполнитель:

Michael Wolff Trio

Название альбома:

jazz, JAZZ, jazz

Год выпуска:

2007

Формат файлов:

FLAC/MP3@320K/s

Размер архива:

412,6 MB/158,6 MB

Скачать с:

turbobit/gigapeta/katfile/rapidgator

1 Autumn Leaves 8:18
2 Solar 9:02
3 Con Alma 7:10
4 Cry Me a River 6:57
5 Dolphin Dance 6:11
6 Footprints 7:00
7 My Funny Valentine 10:15
8 Softly, as in a Morning Sunrise 6:14
9 Einbahnstrasse 4:21

This music was recorded in 2001, right after my band, Impure Thoughts had completed recording all the music for our CD, Intoxicate. We finished early, and we had an additional full day booked at the studio. I asked Victor and John B. to come back and record, just to have some fun. The sound was already the way we wanted since we'd been recording in that studio for the previous four days.

So, we sat down, and picked these nine tunes. They are all tunes that we all knew, and that we had all played in the past. We had no plan, we just hit it - one, two, three, go, as we used to say in Cannonball's band - we didn't have anything to think about except the music, the group's interaction and what we were feeling and hearing in that moment. The three of us had played together for years, and this was an opportunity to just enjoy making music together. Fortunately, we were able to capture it in the studio under such pristine aural conditions.

The only tune I had never played was "Cry Me A River?." I had been listening to WBGO, the jazz radio station out of Newark, New Jersey, and had heard a beautiful recording of Bill Charlap playing the song, and it reminded me how much I love it. John B. showed me the chords, and we played it. The other newer tune for the trio was Ron Carter's "Einbeinstrasee," which I had loved and played on my own for years.

To me, this CD represents what I love best about making Jazz — playing wonderful, evocative material on the spot with great musical collaborators — unplanned, unrehearsed, by the seat-of-the-pants. The music led us; we didn't lead the music. All we had to do was get out of the way and play straight ahead and strive for tone.

— Michael Wolff, 2007

Michael Wolff - Piano
John B. Williams - Bass
Victor Jones - Drums

Wrong RONG011-2 (US)

Download/Скачать FLAC

gigapeta скачать
katfile скачать

Download/Скачать MP3@320K/s

turbobit скачать
katfile скачать
rapidgator скачать


Профиль
(11.10.23 - 12:22) - 007:

Alexej-66, пожалуйста!

Профиль
(15.11.23 - 17:49) - 007:

pula2012, пожалуйста!