Исполнителей:
2650
| Альбомов:
77044
| Видео:
989
---
Главная
»
Музыка
Michael Dease - Give It All You Got (2019)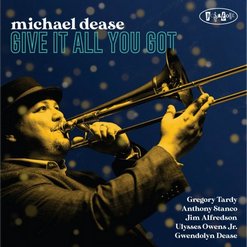 Исполнитель: Michael Dease Название альбома:

Give It All You Got

Год выпуска:

2021

Формат файлов:

FLAC

Размер архива:

370,2 MB

Скачать с:

turbobit/gigapeta/rapidgator/katfile

1. A Sliver Of Silver (5:48)
2. The Next Level (5:18)
3. Parker's Fancy (4:58)
4. Word To The Wise (5:23)
5. Dave's Boogie-Down (5:58)
6. Ritmo De Brevard (6:09)
7. Lake Toxaway Getaway (4:57)
8. Zanderfied (5:58)
9. Climb The Mountain (7:05)
10. Transylvania County Funk Parade (6:08)

Poll-winning trombonist Michael Dease shows us just what it means to Give It All You Got on his eighth release for Posi-Tone. All the pieces fit together perfectly as Dease provides remarkable clarity of vision for enlisting the able assistance of Jim Alfredson onorgan, Greg Tardy on saxophone, Anthony Stanco on trumpet, Gwendolyn Dease on percussion, and Ulysses Owens Jr. on drums. This remarkable collection of hard hitting performances also features special guest appearances from saxophonist Sharel Cassity and guitarist Randy Napoleon that are seamlessly woven into the mix as the bandleader shines brightly with inspiration across a wide spectrum of styles and sounds! Critical ears and casual listeners will be delighted as Michael Dease continues to entertain and astonish, while walking the talk of his charitable message to "Give It All You Got."

Michael Dease - trombone
Gregory Tardy - tenor sax
Anthony Stanco - trumpet
Jim Alfredson - organ
Ulysses Owens Jr. - drums
Gwendolyn Dease - percussion
Luther Allison - drums 3, 9
Sharel Cassity - alto sax 5
Brooklyn Dease - percussion 6
Randy Napoleon - guitar 8

Positone PR8217 (US)

Recorded September 22, 2019 at Acoustic Recording, Brooklyn, NY

turbobit скачать
gigapeta скачать
rapidgator скачать
katfile скачать


Профиль
(26.02.21 - 11:20) - 007:

pula2012, пожалуйста!