Исполнителей:
2652
| Альбомов:
94367
| Видео:
1053
---
Главная
»
Музыка
Louie Bellson Quintet - Greetings (1954-55)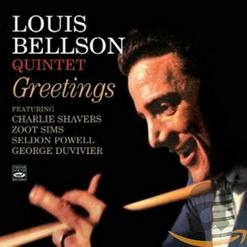 Исполнитель: Louie Bellson

Quintet

Название альбома:

Greetings

Год выпуска:

2009

Формат файлов:

MP3@320K/s

Размер архива:

139,3 MB

Скачать с:

turbobit/gigapeta/rapidgator/katfile

These superbly swinging Louis Bellson quintet sides are a showcase for some outstanding soloists. On the first date, Zoot is in top form, with 'Love for Sale' offering some of his best playing on record, while Shavers stays within the bounds of good taste and conceptual interest, blowing with his characteristic verve. Duviviers bass is a lithe, swinging asset, marked by his usual wonderful tone and great rhythmic power, while Don Abney plays apt piano throughout. Louies exercise, too, is unusually interesting and should be a must for drum students.

On the second session, Seldon Powell is on tenor, playing with soul, ease and lightness, but always with authority. Wendell Marshall provides a full, solid and dependable bass, and Lou Steins piano transmits his signature strong beat. The final result is a relaxed but combustible blend of swing era and mainstream modern jazz that still retains its freshness and enjoyment.

01. Charlies Blues
02. Ill Remember April
03. Buffalo Joe
04. Stompin At The Savoy
05. Love For Sale
06. The Man I Love
07. Basically Speaking, Duvivier, That Is
08. Concerto For Drums
09. Basie
10. Charlie-O
11. (All Right) Jump It Man
12. Greetings

Total time: 64:15 min.

Album details

Sources:
Tracks #1-8 from the album "Concerto for Drums" (Verve MGV-8016)
Reissue of Norgran MGN-1011, entitled "Louis Bellson And His Drums"
Tracks #9-12 taken from the album "The Hawk Talks" (Verve MGV-8186)
Reissue of Norgran MGN-1020, entitled "The Driving Louis Bellson"

Personnel on #1-8: Charlie Shavers (tp), Zoot Sims (ts), Don Abney (p), George Duvivier (b) and Louis Bellson (d). Recorded in New York City, on June 21, 1954

Personnel on #9-12: Charlie Shavers (tp), Seldon Powell (ts), Lou Stein (p), Wendell Marshall (b) and Louis Bellson (d). Recorded in New York City, on February 2, 1955

turbobit скачать
gigapeta скачать
rapidgator скачать
katfile скачать


Профиль
(25.07.20 - 09:06) - 007:

pula2012, пожалуйста!