Исполнителей:
2650
| Альбомов:
70901
| Видео:
977
---
Главная
»
Музыка
Larry Willis - I Fall in Love Too Easily (The Final Session at Rudy Van Gelder's) (2020)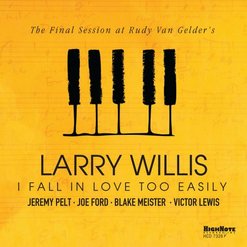 Исполнитель:

Larry Willis

Название альбома:

I Fall in Love Too Easily (The Final Session at Rudy Van Gelder's)

Год выпуска:

2020

Формат файлов:

MP3@320K/s

Размер архива:

119,6 MB

Скачать с:

turbobit/gigapeta/rapidgator

1. Today's Nights (5:48)
2. Heavy Blue (3:41)
3. Anna (6:09)
4. Habiba (6:21)
5. The Meaning of the Blues (8:34)
6. Let's Play (8:11)
7. Climax (5:54)
8. I Fall in Love Too Easily (5:55)

It may be somewhat ironic, yet ultimately fitting that this, the final recording by Larry Willis, brought the veteran pianist/composer right back to the Rudy Van Gelder Studio where he first began his impressive career as recording artist that spanned over a period of six decades.

The Harlem, New York born Willis first entered the hallowed halls of Rudy Van Gelder's legendary Englewood Cliffs, New Jersey studio as a twenty-two year old graduate of the Manhattan School of Music on January 29, 1965 to record with Jackie McLean for Blue Note Records. Willis's expansive resume includes entries with the likes of Cannonball Adderley, Nat Adderley, Blood, Sweat and Tears, Stan Getz, Jerry Gonzalez and the Fort Apache Band, Clifford Jordan, Carmen McRae, David "Fathead" Newman, Woody Shaw, and many more. He appeared on hundreds of albums as a sideman and dozens more as a leader of his own impressive bands.

The music played here with long-time friends Victor Lewis and Joe Ford, and his relatively new colleague Jeremy Pelt shows Larry Willis displaying the intense creativity and impeccable taste which made him one of the most respected keyboard artists in jazz.

Larry Willis (piano)
Jeremy Pelt (trumpet)
Joe Ford (alto saxophone)
Blake Meister (bass)
Victor Lewis (drums)

turbobit скачать
gigapeta скачать
rapidgator скачать


Профиль
(10.06.20 - 17:01) - 007:

pula2012, пожалуйста!