Исполнителей:
2650
| Альбомов:
70080
| Видео:
976
---
Главная
»
Музыка
Lakecia Benjamin - Pursuance: The Coltranes (2020)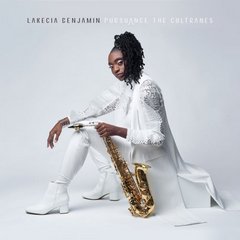 Исполнитель:

Lakecia Benjamin

Название альбома:

Pursuance: The Coltranes

Год выпуска:

2020

Формат файлов:

MP3@320K/s

Размер архива:

170,9 MB

Скачать с:

turbobit/gigapeta

01. Liberia (feat. Gary Bartz) (5:51)
02. Prema (6:02)
03. Central Park West (feat. Jazzmeia Horn) (4:29)
04. Walk With Me (feat. Regina Carter) (7:06)
05. Going Home (feat. Brandee Younger and Marcus Strickland) (6:38)
06. Syeeda's Song Flute (feat. Ron Carter and Keyon Harrold) (6:37)
07. Spiral (feat. Steve Wilson and Marcus Gilmore) (5:44)
08. Om Shanti (feat. Georgia Anne Muldrow and Meshell Ndegeocello) (5:28)
09. Alabama (2:50)
10. Acknowledgement (feat. Dee Dee Bridgewater and The Last Poets) (3:37)
11. Pursuance (feat. Marc Cary) (3:17)
12. Turiya and Ramakrishna (7:51)
13. Affinity (feat. Greg Osby and Reggie Workman) (7:11)

On her new outing, Pursuance: the Coltranes, saxophonist Lakecia Benjamin is far from the cosmopolitan sounds of funk and R&B and closer to the spiritual modal jazz. She interprets a collection of 13 tunes by Alice and John Coltrane, all recast through series of dynamic alterations and multiple perspectives rooted in her own beliefs. The album comes equipped with a large cross-generational lineup that includes colossal bassists Reggie Workman and Ron Carter, saxophonist Gary Bartz, violinist Regina Carter, and vocalists Dee Dee Bridgewater and Jazzmeia Horn, among many others.

"Liberia" channels an incredible modal energy, featuring two saxophones in prayer (Benjamin and Bartz), fervent piano voicings, and a strong bass-drums connection. A jubilant swinging infection takes hold of the improvisational section, and an analogous approach is observable on "Syeeda's Flute Song", where the happy melody bumps into spacious harmonizations provided by David Bryant's Fender Rhodes. The bassist here is Ron Carter and the solos belong to Benjamin and trumpeter Keyon Harrold.

Violinist Regina Carter comes to the forefront on "Walk With Me", solemnly combining her sound with bowed bass before a groove emerges to promote openness, and "Going Home", which weaves a contemplative path that finds the sweet spot between chamber music (with violin, flute, bass clarinet, and the harp sweeps of Brandee Younger) and gospelized spiritual.

An African-tinged pulse and key-shifting melody mark the soothing "Prema", while, in a reverse direction, "Central Park West" is given a soul/funky treatment, brandishing a whirling piano motif at the core of its A section. The scat singing featured on the latter is by the illustrious Jazzmeia Horn, who is heard volleying with the bandleader by the end. Another guest singer to appear on the recording is Dee Dee Bridgewater, whose terrific blend of technique and emotion eulogizes the spectacular "Acknowledgement", here beautifully introduced by the pacific waves of "Alabama".

Both written by Alice, "Om Shanti" and "Turiya and Ramakrishna" are mantric exercises holding an optimal amount of emotional meaning. The former is professed with the vocal energy of Georgia Anne Mudrow, a popping electric bass groove supplied by Meshell Ndegeocello, and Ricardo Ramos' distorted guitar; the latter piece is sensitively brushed throughout its insistent circularity. In a distinct note, "Affinity" closes out the album with a polyrhythmic, at times free-ish ramble that counts on Workman's sturdy bass lines and saxophonist Greg Osby's smart obliquities to succeed.

turbobit скачать
gigapeta скачать


Профиль
(31.03.20 - 10:15) - Trubadur:

Трибьют получился великолепный!Какая вдохновенная игра,какая команда!

Профиль
(1.04.20 - 10:23) - 007:

pula2012, Trubadur, пожалуйста!