Исполнителей:
2650
| Альбомов:
70879
| Видео:
977
---
Главная
»
Музыка
Kirk Knuffke - Tight Like This (2019)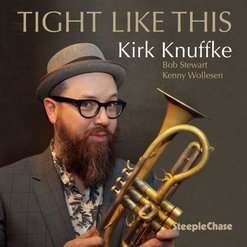 Исполнитель:

Kirk Knuffke

Название альбома:

Tight Like This

Год выпуска:

2020

Формат файлов:

MP3@320K/s

Размер архива:

155,6 MB

Скачать с:

turbobit/gigapeta/rapidgator

1. Cyclops (5:11)
2. Pee Wee's Blues (5:54)
3. Chicutz (3:28)
4. Shake A Lady (5:42)
5. Any, Again Again (3:52)
6. Jungle Soul (ca'purange) (7:55)
7. Blues In C Sharp Minor (5:35)
8. Tight Like This (4:29)
9. Four Butch Two (4:19)
10. Bring A Bell (5:23)
11. Way She Goes (4:26)
12. Dozen A Day (4:24)
13. Wind Spirit (2:57)

Cornetist/composer Kirk Knuffke is, to quote All About Jazz, "one of modern jazz's most skilled navigators of the divide between inside and outside, freedom and swing." This, his 10th leader album on SteepleChase is resounding proof of Kirk's empathy and appreciation of "inside" and "swing" early jazz. Kirk assembled a slimmed down Brass Band trio with the leading tuba player Bob Stewart and the versatile Kenny Wollesen on drums to present a dazzling program inspired by the earlier geniuses such as Louis Armstrong.

"Tribute albums must, of course, stand on their own. Knuffke pays homage to Cherry by sounding like himself. The austere format allows immersion in the full scope of Knuffke's technically astute and wildly unpredictable creativity." (Thomas Conrad – NYC Jazz Record on SCCD 31832 Cherryco) "…(Knuffke) puts the emphasis on ensemble interplay, forming an airy, malleable bond with his deft rhythm team while still uncorking one convincing and lyric solo after another. Cherryco feels like a love letter and it's hard not to share in the ardor. (Peter Margasak – Down Beat on SCCD 31832 Cherryco)

Kirk Knuffke (cornet)
Bob Stewart tuba)
Kenny Wollesen (drums, percussion)

Recorded February 2019

turbobit скачать
gigapeta скачать
rapidgator скачать


Профиль
(25.05.20 - 00:03) - 007:

pula2012, пожалуйста!