Исполнителей:
2651
| Альбомов:
80687
| Видео:
1009
---
Главная
»
Музыка
Ken Peplowski Quartet - Petite Fleur (2018)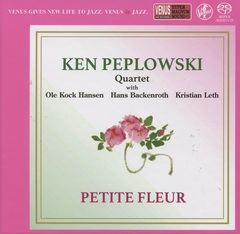 Исполнитель: Ken Peplowski

Quartet

Название альбома:

Petite Fleur

Год выпуска:

2019

Формат файлов:

MP3@320K/s

Размер архива:

164,1 MB

Скачать с:

turbobit.net

01. Petite Fleur
02. Blue Bossa
03. Dream
04. My Man
05. Hush-A-Bye
06. Here's To Life
07. Love Is A Many-Splendored Thing
08. If You Are But A Dream
09. So In Love
10. I'm A Fool To Want You
11. Tangerine
12. What Are You Doing The Rest Of Your Life

While well known among serious jazz fans in the U.S., the talented Ken Peplowski had been relatively unknown in Japan, until Tetsuo Hara of Venus Records introduced him with the smash hit "Memories of You" in 2006. It received not only the Gold Disc recognition, but was also awarded the Best Engineered Album in 2006 by Swing Journal. Its audiophile credentials were further enhanced when Jazz Critique Magazine chose it as the Third Best Sounding Jazz Disc of 2006.

Peplowski has recorded about 50 albums as a soloist, and close to 400 as a sideman — some of the artists he's performed/recorded with include Charlie Byrd, Mel Torme, Rosemary Clooney, Erich Kunzel and the Cincinnati Pops, Hank Jones, Peggy Lee, Bill Charlap, Woody Allen, Benny Goodman, and Madonna. He travels at least half of every year, playing clubs, concert halls, colleges, and pops concerts. He has headlined the Hollywood Bowl, Carnegie Hall, the Blue Note, and Dizzy's Club amongst many other venues.

In 2014, Peplowski was the recipient of the Sarasota Jazz Festival's "Satchmo" award, given to him for his "unique and enduring contribution to the living history of jazz." Ken was also given a "Highlights In Jazz" concert in NYC honoring him for "his matchless musical achievements."

Ken Peplowski - clarinet & tenor sax
Ole Kock Hansen - piano
Hans Backenroth - bass
Kristian Leth - drums

Recorded in Copenhagen on November 20 and 21, 2018.

скачать


Профиль
(1.12.19 - 15:07) - 007:

Trubadur, пожалуйста!